The 4th annual Maryland Tour of Solar and Green Homes is this weekend (October 5th & 6th)!
This fascinating event is free to the public. As a self-guided tour, you can visit the homes you choose, and as many as your schedule permits between 11:00 a.m. and 5:00 p.m. on both Saturday and Sunday.
A very informative tour booklet is available which includes descriptions of each home, as well as maps with easy to follow directions.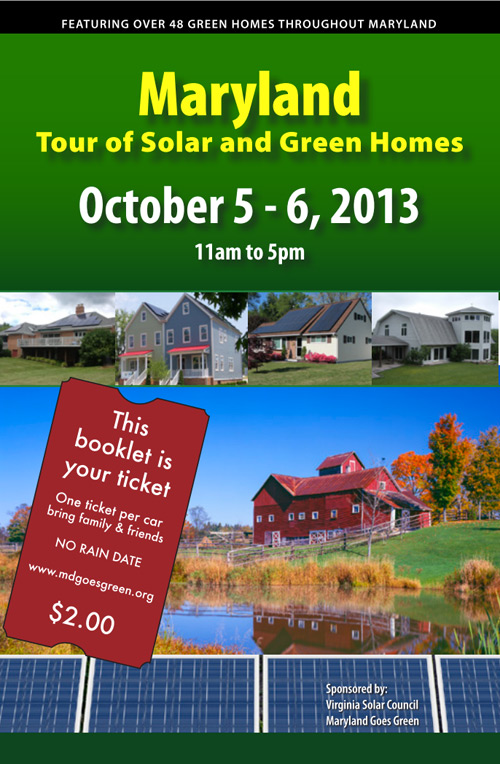 You can download the Maryland Tour booklet for FREE at www.mdgoesgreen.org.
A printed copy of the tour booklet can be purchased for just $2 at these participating outlets in Frederick County: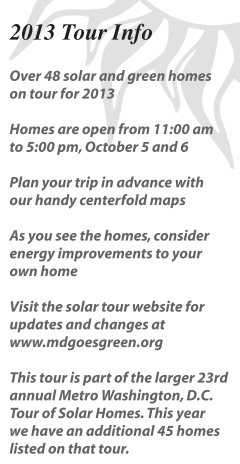 Beans & Bagels
49 East Patrick St.
Frederick, MD
Trail House
17 S. Market St.
Frederick, MD
Main Cup
14 W. Main St.
Middletown, MD
Common Market
5813 Buckeystown Pike
Frederick, MD
Mom's Frederick
5273 Buckeystown Pike
Frederick, MD
South Mountain Creamery
8305 Bolivar Road
Middletown, MD 21769
As you visit the homes and meet the homeowners, you will learn about a variety of designs, technologies, and sustainable living concepts, including:
 
• Photovoltaic (PV) systems
• Solar hot water systems
• Radiant heat
• Straw bale construction
• Wind turbines
• Energy-efficient appliances
• Energy-saving building construction techniques
• Rain gardens and sustainable landscaping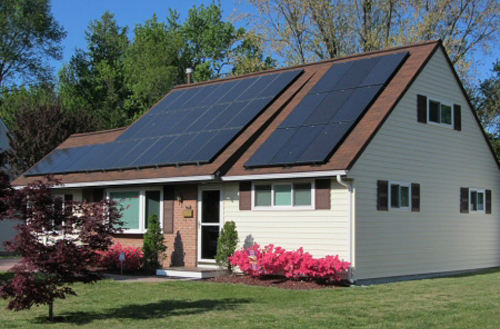 Many homeowners practice energy and water conservation measures, recycle, compost, and drive fuel-efficient or alternative energy vehicles. As you talk with the homeowners, ask lots of questions and consider the energy saving features that you might incorporate into your own home.
The Maryland Tour booklet also includes informative articles and resources on conservation and sustainable living. This year the booklet includes articles on:
• Edible Landscaping, which is a specialized form of gardening where your average, everyday ornamental plants are replaced with a variety of plants that have some food use.
• The ROI (Return on Investment) for solar PV and solar thermal systems which includes a listing of current State and Federal incentives and grants.
• Electric vehicles currently in production, including costs and incentives. This article was provided by the "Electric Vehicle Association of Greater DC" (www.evadc.org).
• Climate change and how local governments can work with the public to make a difference.
• Community supported agriculture (CSA), where consumers support local farms, sharing in the risks and rewards of small scale local agriculture.
• Local efforts supporting the "Campaign to Divest" movement to reduce carbon pollution.
The booklet is designed to be reference for those interested in conservation, renewable energy and sustainability. Check out the Maryland Goes Green website (www.mdgoesgreen.org) for additional details.
| | |
| --- | --- |
| Rich Maranto is a business owner and renewable energy advocate living in Middletown Maryland. His home is #2 on the tour and features active & passive solar as well as a geothermal system. | |
---
Other Information
Frederick News Post (9/29/13):
Jefferson green house brings in solar, wind and geothermal power
http://www.fredericknewspost.com/news/environment/article_28dacaaa-39c4-52d4-a243-ff97bdc9dd4d.html
2013 Washington DC Solar Tour of Homes
http://solartour.org/
Home Power (06/28/13):
Showcasing Solar
"For nearly two decades, solar home tours have been educating and inspiring people to build green and adopt renewable energy."
http://www.homepower.com/articles/solar-electricity/project-profiles/showcasing-solar