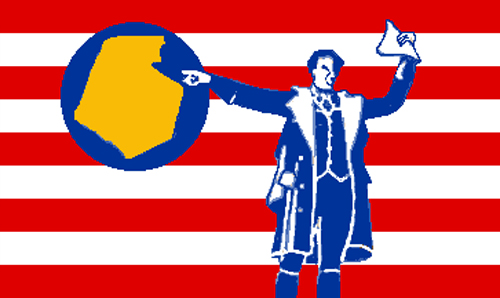 Barring a signature-gathering drive by an "Unaffiliated" candidate, the ballot is set for the 2014 Gubernatorial Primary Election in Frederick County, to be held on June 24, 2014. In the elections for county executive and the seven seats on the new county council, there were seven new filings on Monday, and fourteen more on Tuesday.
After a slow start, the flurry of filings in the last few days brings the total to forty-two Democrats and Republicans vying for eight elected positions in the new charter government.
As many expected, in the last hour, Commissioner Blaine Young filed to run for county executive, and Commissioner Billy Shreve filed to run for one of the two at-large seats on the seven member county council. A few other candidates closely associated with Blaine Young also filed on the last day.
Almost every race will have a contest primary. The exceptions are that former commissioner Jan Gardner will not face a primary challenger in her effort to be elected county executive, and, in District 4, both the Democrat, Jessica Fitzwater, and the Republican, Robert (Bob) Lawrence, have no challengers and can focus on the general election in November.
Below are all the candidates running for county executive and the county council, along with the information they provided when they filed to run. For those who are not certain which one of the new districts they are in, there is a map of each district with the list of candidates running to represent it.
The primary election is four months away. On June 24th, the number of candidates will be reduced from forty-two to sixteen. If it seems daunting, remember that there are four districts in which you will not vote, and, at most, registered Democrats and Republicans will be voting for one county executive candidate, two at-large council candidates, and one council candidate in their district.
For many different reasons, this is a very important election year in Frederick County. Please invest the time to become familiar with the candidates vying for your votes.
Envision Frederick County will soon have a new section on this site that will provide a great deal of information and resources to make that easier for you.
---
County Executive
Jan H. Gardner
Democratic
Filed: 11/08/13
Email: jan@jangardner.org
Website: www.jangardner.org
Facebook: https://www.facebook.com/pages/Jan-Gardner-for-Frederick-County/1410060002543450
Contact Information
P.O Box 4268
Frederick, MD 21705
(240) 405-8180
---
David Gray
Republican
Filed: 02/07/14
Email: sharongrayusa@aim.com
Contact Information
9363 Devilbiss Bridge Road
Walkersville, MD 21793
(301) 898-7304
---
Mark W. Sweadner
Republican
Filed: 02/24/14
Email: Smarkwinfield@aol.com
Contact Information
PO Box 176
Libertytown, MD 21762
(301) 898-9215
---
Blaine R. Young
Republican
Filed: 02/25/14
Contact Information
Email: blaine@blaineyoung.com
Website: http://blaineyoung.com/
Contact Information
102 W Fourteenth St
Frederick, MD 21770
---
County Council At-Large (two will be elected)
Steve Bruns
Democratic
Filed: 02/25/14
Email: stevebruns@aol.com
Website: http://www.stevebrunsforfrederick.com/
Facebook: https://www.facebook.com/stevebrunsforfrederick.com
Contact Information
6113 Baldridge Circle
Frederick, MD 21701
---
Whitney M Duck
Democratic
Filed: 02/14/14
Email: whitney.duck@whitneyduckforfrederick.org
Website: http://www.whitneyduckforfrederick.org
Facebook: http://www.facebook.com/whitneyduckforfrederick
Contact Information
P.O Box 235
Brunswick, MD 21716
---
Susan Reeder Jessee
Democratic
Filed: 02/24/14
Email sej58@comcast.net
Contact Information
8694 S Pacific Court
Middletown, MD 21769
---
Linda Marie Norris
Democratic
Filed: 02/06/14
Email: lindam.norris@comcast.net
Website: http://www.lindanorrisforcouncil.com
Facebook: http://www.facebook.com/lindanorrisforcouncil
Contact Information
9227 Baltimore National Pike
Middletown, MD 21769
(240) 315-8876
---
Dave Twigg
Democratic
Filed: 02/24/14
Email: ADTWIGGIV@gmail.com
Facebook: https://www.facebook.com/DaveTwiggforCountyCouncil
Contact Information
PO Box 42
Tuscarora, MD 21790
---
Eric Besch
Republican
Filed: 02/21/14
Email: info@ericbesch.com
Website: http://www.ericbesch.com/
Facebook: Eric Besch for Frederick
Twitter: https://twitter.com/BESCHERI
Contact Information
905 W Seventh Street # 212
Frederick, MD 21701
(240) 780-8898
---
Jennifer Charlton
Republican
Filed: 02/20/14
Email: jen@jencharltonforfrederickcounty.org
Facebook: Jennifer Charlton for County Council
Contact Information
11213 Angus Way
Woodsboro, MD 21798
(301) 401-7465
---
Wayne Samuel Creadick Jr.
Republican
Filed: 02/24/14
Email: wscjr@comcast.net
Facebook: https://www.facebook.com/CreadickForCountyCouncilAtLarge
Contact Information
48 Foxrock Drive
Myersville, MD 21773
(301) 293-3552
---
Dick Johnson
Republican
Filed: 02/25/14
Email: friendsofdickjohnson@gmail.com
Contact Information
PO Box 38
Buckeystown, MD 21717
(301) 674-1003
---
Justin M. Kiska
Republican
Filed: 02/20/14
Email: justin@justinkiska.com
Website: http://www.justinkiska.com/
Facebook: https://www.facebook.com/KiskaForFrederick
Contact Information
5 Willowdale Drive Suite 1A
Frederick, MD 21702
(301) 662-6600
---
Bud Otis
Republican
Filed: 02/25/14
Email: rosebudotis@comcast.net
Website: http://www.budotis.com/
Facebook: https://www.facebook.com/budotis
Contact Information
P.O Box 245
Middletown, MD 21769
(240) 500-0095
---
Jonathon Pocius
Republican
Filed: 02/18/14
Email: jon@votejp.org
Website: http://www.votejp.org/
Facebook: https://www.facebook.com/jonathon.pocius
Twitter: https://twitter.com/jonpocius
Contact Information
3528 Urbana Pike
Frederick, MD 21704
(240) 215-4438
---
Billy Shreve
Republican
Filed: 02/25/14
Email: info@believeinshreve.com
Website: http://www.believeinshreve.com/
Facebook: https://www.facebook.com/billy.shreve
Contact Information
1812 Sebastian Boulevard
Frederick, MD 21701
(301) 694-3618
---
County Council District 1
Jerry Donald
Democratic
Filed: 01/22/14
Email: jerrydonald371@gmail.com
Website: http://www.electdonald.com
Facebook: http://www.facebook.com/JerryDonaldForFrederickCountyCouncil
Twitter: https://twitter.com/jerrydonald371
Contact Information
P O Box 235
Braddock Heights, MD 21714
(240) 405-5739
---
Richard A Maranto
Democratic
Filed Regular: 02/18/14
Email: rich@richmaranto.org
Website: http://www.richmaranto.org
Facebook: https://www.facebook.com/RichMarantoForFrederick
Twitter: https://twitter.com/richmaranto2014
Contact Information
8064 Geaslin Drive
Middletown, MD 21769
(301) 676-9918
---
Ellen L. Bartlett
Republican
Filed: 02/25/14
Email: ellenb4317@yahoo.com
Contact Information
4317 Buckeystown Pike
Frederick, MD 21704
---
Grace Pileggi Hallenbeck
Republican
Filed: 02/21/14
Email: grace4council@comcast.net
Contact Information
5716 Mill Run Place
Frederick, MD 21703
(301) 663-0453
---
Michael Hill
Republican
Filed: 02/25/14
Email: hillforfrederick@gmail.com
Contact Information
3624 Lander Road
Jefferson, MD 21755
---
Carole Jaar Sepe
Republican
Filed: 02/25/14
Emai: cjaarsepe@aol.com
Contact Information
4465 Lewis Mill Ct
Jefferson, MD 21755
(301) 473-5292
---
County Council District 2
Pamela Abramson
Democratic
Filed: 02/25/14
Email: Pabramson4d2@gmail.com
Contact Information
11895 Barley Ct
Monrovia, MD 21770
---
Annette Breiling
Democratic
Filed: 02/25/14
Email: annette@breiling4frederick.com
Website: http://www.breiling4frederick.com/
Contact Information
PO Box 255
Monrovia, MD 21770
(301) 788-8170
---
Stacey Van Veen
Democratic
Filed: 2/25/14
Email: rrkoopman@comcast.net
Contact Information
5906 Jug Bridge Hill Rd
Frederick, MD 21704
---
Tony Chmelik
Republican
Filed: 02/25/14
Email: cheskyinc@verizon.net
Contact Information
2941 Green Valley Road
Ijamsville, MD 21754
(301) 748-6146
---
Stephens Ruffner Dempsey
Republican
Filed: 02/14/14
Email: sdempsey@dempsey4u.com
Website: http://www.dempsey4u.com
Facebook: https://www.facebook.com/groups/dempsey4u/
Contact Information
P.O. Box 412
Monrovia, MD 21770
(301) 788-4980
---
Fred Ugast
Republican
Filed: 02/21/14
Email: fred@ugast.com
Website: http://www.ugast.com
Facebook: https://www.facebook.com/Ugast2014
Contact Information
3604 Spring Hollow Lane
Frederick, MD 21704
(240) 344-2657
---
County Council District 3
Jesse Goode
Democratic
Filed: 02/24/14
Email: jg4504@aol.com
Website: http://www.goode4fccouncil3.com/
Facebook: https://www.facebook.com/goodecouncil3
Contact Information
PO Box 3033
Frederick, MD 21705
(301) 696-9060
---
M C Keegan-Ayer
Democratic
Filed Regular: 02/14/14
Email: mc4district3@earthlink.net
Facebook: https://www.facebook.com/pages/MC-Keegan-Ayer-for-County-Council-District-3/1451216111762493
Contact Information
P.O Box 748
Braddock Heights, MD 21714
(301) 964-0635
---
Luis O Mantilla
Democratic
Filed: 01/23/14
Email: luisnazareno56@live.com
Contact Information
10 Livingstone Terrace
Frederick, MD 21702
(240) 626-8312
---
Sandra Reed
Democratic
Filed: 02/24/14
Email sreed47@msn.com
Contact Information
1417 Grouse Court
Frederick, MD 21703
---
Dwaine Earl Robbins
Democratic
Filed: 02/24/14
Email: dwaine.robbins@gmail.com
Website: http://www.friendsofdwaineerobbins.com/
Contact Information
PO Box 233
Frederick, MD 21705
(301) 524-0331
---
Christopher James Mason
Republican
Filed: 08/05/13
Email: chrismason22@aol.com
Contact Information
2506 Shelley Cir Unit 1B
Frederick, MD 21702
(301) 788-6346
---
Denny Shafer
Republican
Filed: 02/25/14
Email: pshafer2@verizon.net
Contact Information
6913 Greenvale Court
Frederick, MD 21702
(301) 663-5043
---
County Council District 4
Jessica Fitzwater
Democratic
Filed: 01/23/14
Email: jessica@jessicafitzwater.com
Website: http://jessicafitzwater.com/
Facebook: https://www.facebook.com/JessicaFitzwaterforFrederick
Twitter: http://www.twitter.com/jessfitzwater
Contact Information
1505 Dockside Drive
Frederick, MD 21701
(301) 639-7714
---
Robert (Bob) Lawrence
Republican
Filed: 01/28/14
Email: boblawrence5753@comcast.net
Contact Information
5753 Box Elder Court
Frederick, MD 21703
(301) 662-9185
---
County Council District 5
Mark Long
Democratic
Filed: 02/14/14
Email: mark@marklong.us
Website: http://www.marklong.us/
Facebook: https://www.facebook.com/MarkLongforFrederickCounty
Contact Information
P O Box 495
Thurmont, MD 21788
(301) 271-1756
---
Fred Wood
Democratic
Filed: 02/04/14
Email: fwoodsr@netzero.net
Website: http://fredwoodforcountycouncil.com/
Facebook: https://www.facebook.com/fred.wood.5602
Contact Information
PO Box 513
Thurmont, MD 21788
(301) 639-5787
---
Kirby Delauter
Republican
Filed: 01/27/14
Email: kirbydelauter@wfdelauter.com
Website: http://kirbydelauter.com/
Contact Information
2 Creamery Way
Emmitsburg, MD 21727
(301) 447-5881 x208
---
Ralph W. Whitmore
Republican
Filed: 02/25/14
Contact Information
56 Maple Avenue
Walkersville, MD 21793
(301) 845-1148
---
More information
County council members to be elected by districts in 2014: What district are you in?
http://www.envisionfrederickcounty.org/county-council-members-elected-districts-2014-district/
Frederick County Board of Elections
http://www.frederickcountymd.gov/index.aspx?nid=1198
Maryland Board of Elections
Frederick 2014 Gubernatorial Primary Election Local Candidates List
http://www.elections.state.md.us/elections/2014/primary_candidates/gen_Listings_2014_1__by_county_11.html