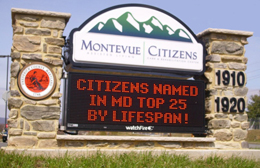 With regard to the decision of the current Frederick County Board of County Commissioners to sell Citizens Care and Rehabilitation Center and the Montevue Assisted Living facility, we'll let this press release speak for itself.
---
NEWS RELEASE
For Immediate Use
March 19, 2014
Contact:
Leslie Powell, Powell Flynn LLP (301) 668-7575
Cindy Powell, Save Citizens/Montevue (301) 695-7199 or (240) 479-8209
Circuit Court Allows Litigation To Proceed –
Proposed Sale of Citizens/Montevue Still On Hold
Frederick, MD —- Citizens seeking to stop the Frederick County Commissioners from selling Citizens Care & Rehabilitation Center and Montevue Assisted Living, the county-owned assisted living facility for poor Frederick County residents, won a victory in Circuit Court on March 14, 2014, when the Court ruled on the Board of County Commissioner's motion for summary judgment, denying it in large part.
The Court refused to strike down the restrictive covenant in the 1828 deed transferring the Brunner farm property to the County that states the land is to be used, "for the benefit of the poor of said county, and to and for no other use, intent or purpose whatsoever." Judge Adams found that the language was not "ambiguous in the slightest" and "thus running with the land". The Court held that there "is a genuine dispute of fact as to whether the sale of CCRC/MAL facilities are in derogation of the restrictive covenant established in the deed of 1828 from Elias Brunner to Frederick County." The Court did dismiss two counts of the plaintiff's complaint but the majority of plaintiffs' claims will proceed.
"We are very pleased with the thorough consideration of the issues by the Circuit Court, and appreciate the Judge's ruling," Leslie Powell, of Powell Flynn, LLP and attorney for the plaintiffs, said today. "The validity of the restrictive covenant is very important in terms of being able to honor the intent of the grantor Elias Brunner to serve the needs of the poor of Frederick County. This is an important part of Frederick County history to be honored and cherished. We are very happy with the ruling of the Court. My clients, and the many other citizens fighting this battle, will continue to work for the services so needed by the poorest and frailest elderly in our County."