What began as a quick check of emails in my-box has become an affirmation of all things good in our Frederick County community.
In mid-November of this year, I returned home at the end of just a normal workday. My goal, having settled in to the comfort of home, was to check my emails before calling it a day. And there it was – an email forwarded by a friend. "It" was a plea for help sent originally by the Homeless Student Administrator with Frederick County Public Schools, requesting community support and contributions for a 12-year old boy whose mother died when he was two, and who was abandoned by his father in the recent past. The boy was recently seen wearing a beat-up pair of "flip flops" as apparently these were his only choice of footwear. My first reaction when I read this email plea was "what the hell?" How could this be happening to someone, a child, here in my town? And secondly, why in the world would Frederick County Public Schools need a staff person identified as helping homeless students?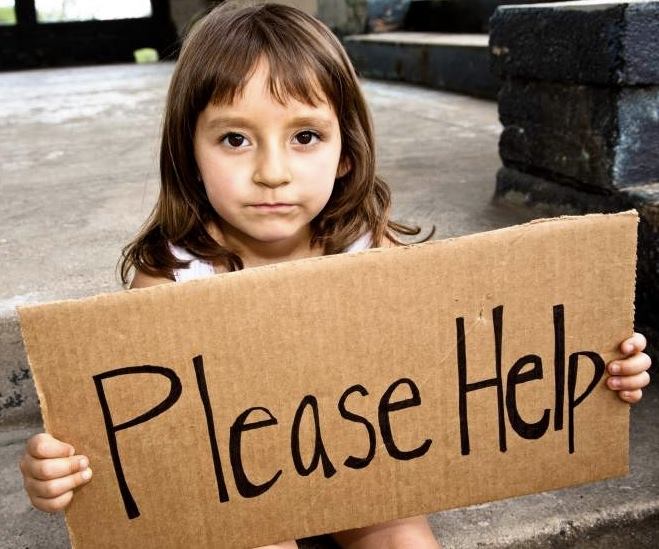 In a few key strokes, I cut and pasted the original email plea into a Facebook post and sent it to my friends noting the request. That initial post occurred at about 5:30 that afternoon. Within 5 minutes, the responses starting pouring in. "What do you need?", "How can I help?", and even the more common responses like "I'll be there later this evening with clothes and shoes for this young man."
By 6:30 that evening, two friends showed up at my door, apologizing for taking too long, but that the lines at Costco were long. I learned that my friends, just like me, had arrived home from a long day at the office, to then sit down on the couch for a quick dinner, to then read the Facebook post. They mutually agreed that dinner can wait, and off they went to the store. Urgent news required an urgent reaction and response. The knocks at my door continued well into the evening, with total strangers delivering bags upon bags of clothing.
The activity continued the next day, with friends and even more strangers dropping by the house with contributions. Then, out of the blue, I began receiving emails, Facebook messages, and even telephone calls from Hawaii and Colorado with the typical introduction "you don't know me but I read about this twelve year old boy, and I need to do something." In just a matter of a couple of days, the original Facebook post had been shared over 150 times, extending the message well beyond one individual's effort to a broad community of care.
Thankfully, we were able to do something. Through our collective efforts and those of others in the community, it seems as though "our young man" has been looked after with his immediate needs, realizing that these things collected were a temporary solution for his situation.
But for myself, and for many others, that boy was just the catalyst for digging into the broader task.
How did our boy find himself in this situation?
Are there others like him?
What does it mean when one is "classified" as homeless?
Are there others like him?
According to a representative from Frederick County Public Schools, there are many more like him. In this current school year, as of early December, there are 595 "homeless" students in the county, each with his or her own story. Some remain within intact families, many without. This number is evenly distributed across elementary, middle and high schools in the county. And to no one's surprise, the trend of homeless students has continued to grow over the recent years – doubling in fact.
While this last thirty days has been interesting and challenging in its realizations, just as startling in many ways has been the community's response. Friendships and bonds have been created, forged with a common purpose to do something and not sit idly by. Having been created in early December, the Facebook group Frederick County Homeless Students Initiative has grown to close to 500 caring members who share ideas, and organize activities and efforts in the pursuit of providing support for "our children." We're working to partner with existing organizations such as Beacon House's Rescue Mission to bring additional focus and support to "our children." And we're working to help educate others in the county on the situation and how more of us can look after "our children". Fred Ugast's recent column in the Frederick News Post, along with the on-going Season of Hope series has helped a lot to draw interest and enlighten our community on the plight of the homeless and impoverished.
And what about the affirmation I mentioned at the top of this article?
It's the recognition that so many people, mostly in Frederick County but some beyond, immediately sought to take action for "our young man". They stepped out of their busy lives, their front door, and out of themselves to not let this situation stand. And to look beyond "our young man" to first realize that there are currently 594 just like him here in our community, and what can we do to relieve their stress in some way. And probably the most important realization for me has been that there are genuinely good caring people who embrace this wonderful sense of community we have here in Frederick County and that it truly "takes a village".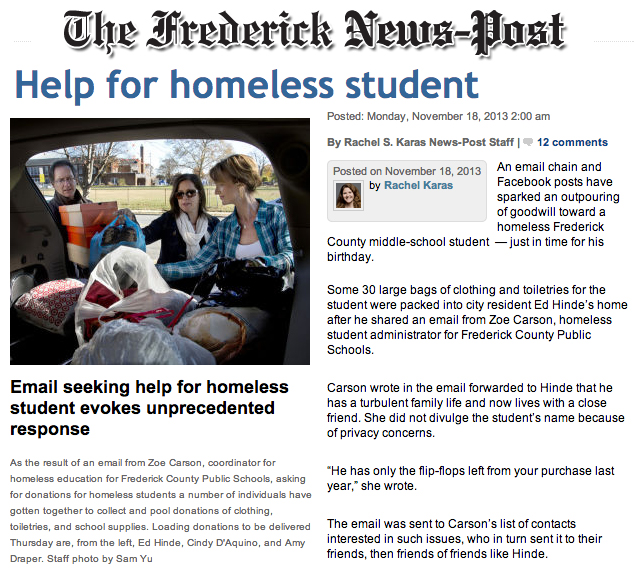 ---
More information
Frederick News Post
Help for homeless student
November 18, 2013
Frederick News Post
Groups gather to call attention to homelessness
November 18, 2013
Frederick News Post
Whose problem is it, anyway?
December 12, 2013
Column by Fred Ugast
Frederick Magazine
In Plain Sight: The Faces of Frederick's Homeless Reveal Hurt and Hope
December 12, 2013