If you are a registered Democrat or Republican in the City of Frederick, I sincerely hope you are planning to vote in the city's important primary election tomorrow!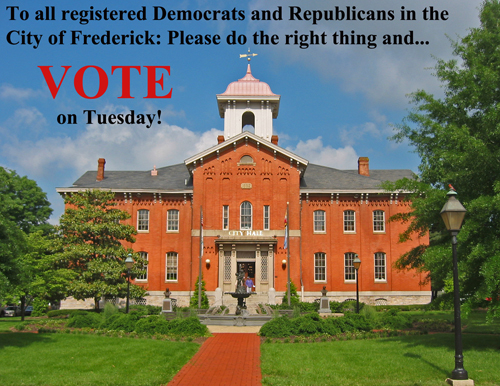 Envision Frederick County does not endorse candidates in elections. As it says in our mission statement, however, we were "founded on the principle that informed public discourse and active engagement of individuals and groups in our civic life is essential to our well-being and prosperity," and that absolutely includes being an informed participant in the selection of elected officials, at all levels.
I hope you have been paying attention, learning about the candidates running in your party primary, thinking about the issues and choices that will matter to you and your community…and, again, planning to vote tomorrow!
Four years ago, the last time city residents got to cast votes for mayor and all five members of the Board of Aldermen, most did not. In the 2009 primary, in which all the party nominations were well-contested, less than one in five registered Democrats and Republicans voted. That is worth repeating: More than 80% of the residents of the City of Frederick who could have voted on that September day didn't bother to invest a few minutes of their day, and vote!
Turnout was only marginally better for the general election in November, when only 25% of the registered voters in Frederick chose who would run their city for the next four years.
It's tempting to dive into all the different — and inadequate — reasons that people don't vote, but that's more than I'm willing to tackle here and now. One point to make, however, is that while there are many people — too many — who never or almost never vote, there are even more that often vote in big, high profile national and state elections but do not vote in local municipal elections.
That's also worth repeating: Fewer than half of the registered voters in the City of Frederick that do vote in national and state elections care enough to participate — to vote — in the election for mayor and the board of alderman!
It can't be because there were not significant differences between the candidates, because there were then — and are now — big differences. And they are real differences, in their vision of the city and its future, or how they see the role of local government, or how they view the decision-making process and citizen participation, and, of course, on many of the individual issues.
Perhaps it is because too many people don't understand and appreciate all the ways that your local elected officials shape the community, and affect the day to day lives of everyone who lives and works and plays there? If that is one of the major reasons, it is definitely one based in ignorance.
If you ever had the slightest doubt about that, please consider this diverse and substantial, and incomplete, list of significant things determined or shaped and/or managed by your elected municipal representatives: The city budget, tax rates, land use, planning and zoning, road construction and maintenance, waste management, water and sewer, parks and recreation, historic preservation, public safety and law enforcement, environmental protection, economic development, permitting and a still long list of other facilities and citizen services, from the airport to special events.
There are many and important decisions to be made about all these things, and more. Who you put in place to do that on your behalf, and how well they work with each other and the public…matters.
Life is busy, and people have all sorts of other things to worry about. There never seems to be enough time for family and work (perhaps with a time-consuming commute "down the road"). Clearly, paying attention to local government is low on the list of priorities for MOST of your neighbors.
Nobody is asking or expecting you to pay close attention to everything that happens in City Hall. That is, after all, one of the reasons you elect people to represent you…every day, on all those matters and more.
But the system breaks down, in more ways than you might think, when so many citizens don't bother to learn and think about the candidates that will become the mayors and aldermen that make these decisions for you.
Please pay attention. Please learn a bit more than you already know about your local government. Please participate in the process, in some way, beyond election day. But, at the very least, please take local elections seriously, invest a modest effort to be an informed voter…AND VOTE!
And, to those of you who already or always pay some attention, and always vote, please encourage your family members, and friends and neighbors to do so, as well.
If you haven't already decided who to vote for tomorrow, please visit the page below, which includes a list of all the candidates, with their contact information, websites, Facebook pages and Twitter accounts (for those who have them), along with links to a variety of other sites with substantial information about the candidates and the election:
CITY OF FREDERICK 2013 ELECTIONS FOR MAYOR AND BOARD OF ALDERMEN
Consider yourself encouraged to share this blog entry and/or the link above with others in the City of Frederick!