If you haven't had the opportunity to hear Doug Tallamy in person, I'm pleased to share a link to the excellent video below. Doug is a very articulate voice on the real difference each of us can make by using native plants in our yards and other landscapes.
In this engaging talk, Tallamy, the author of "Bringing Nature Home: How Native Plants Sustain Wildlife in Our Gardens," illustrates why using native plants in our home landscapes is important, and he makes a compelling case to do what you can, as soon as you can.
About halfway through the presentation, Tallamy shares his vision for how this effort can genuinely help slow the rate of extinction, at least in the US. One appealing aspect of his message and vision is that this is not hard to do, and adds beauty to our home and community at the same time.
It makes perfect sense!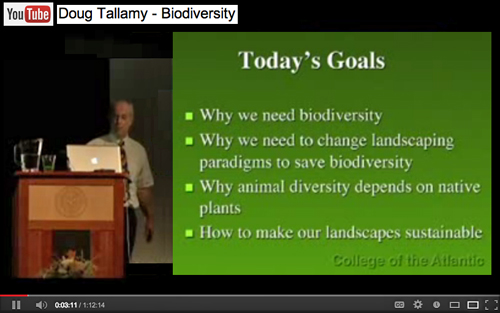 http://www.youtube.com/watch?v=QEhl2ZwzCr4
---
More of Doug Tallamy and his book "Bringing Nature Home: How Native Plants Sustain Wildlife in Our Gardens"
Bringing Nature Home
A Case for Native Gardening: Native gardening and biodiversity matter.
This site supports the lecture series and book Bringing Nature Home by University of Delaware professor Doug Tallamy.
http://bringingnaturehome.net/
Here is an excellent page on that site: Gardening For Life
http://bringingnaturehome.net/native-gardening/gardening-for-life
On another page: Doug On Radio Times
Doug did an hour-long interview with Philadelphia's Marty Moss-Coane on the show "Radio Times".
http://bringingnaturehome.net/news/doug-on-radio-times
---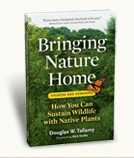 About the book:
Bringing Nature Home: How You Can Sustain Wildlife with Native Plants
by Douglas W. Tallamy
http://www.plantanative.com/index.html
And where you can Buy the Book:
http://www.plantanative.com/where-to-buy.html
---
NPR Senior Correspondent Ketzel Levine reviewed the book on her blog:
"Talking Plants"
http://www.npr.org/blogs/talkingplants/2007/11/let_them_eat_leaves_1.html
---
To Feed the Birds, First Feed the Bugs
New York Times: March 6, 2008
http://www.nytimes.com/2008/03/06/garden/06garden.html
EXCERPT: So the message is loud and clear: gardeners could slow the rate of extinction by planting natives in their yards. In the northeast, a patch of violets will feed fritillary caterpillars. A patch of phlox could support eight species of butterflies. The buttonbush shrub, which has little white flowers, feeds 18 species of butterflies and moths; and blueberry bushes, which support 288 species of moths and butterflies, thrive in big pots on a terrace. (Appropriate species for other regions are listed by local native plant societies.)
---
And finally, for now, here is a recent and outstanding blog entry by Doug Tallamy on the website of The Center for Humans and Nature
Nature's Final Mandate
http://www.humansandnature.org/urban-ethic—doug-tallamy-response-79.php
Also NOTE that, in the right column on that page is a link to his more recent, and second bood, entitled: The New American Landscape: Leading Voices on the Future of Sustainable Gardening