Dear Maryland Transportation Stakeholder:
The Maryland Department of Transportation is pleased to announce the release of the Draft 2035 Maryland Transportation Plan (MTP) for public review and comment. The draft plan can be accessed via: www.mdot.maryland.gov/MTP. The MTP is a 20-year vision for transportation in Maryland, and outlines the State's transportation goals, policies and priorities. It is updated every five years and helps guide statewide policy and investment decisions across all modes of transportation.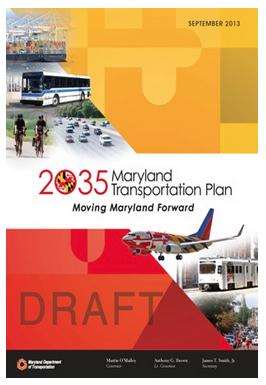 The public comment period will remain open until November 1, 2013. We welcome your thoughts on the draft plan; comments can be provided via email to MDOT2035Plan@mdot.state.md.us, or by mail to the address below. We thank you for your interest in the future of Maryland's transportation system.
Sincerely,
Michael J. Haley
MTP Project Manager
Office of Planning and Capital Programming
Maryland Department of Transportation
7201 Corporate Center Drive
Hanover, MD 21076