Maryland Gov. Martin O'Malley has made claim that he wants Maryland to become a Zero Waste State: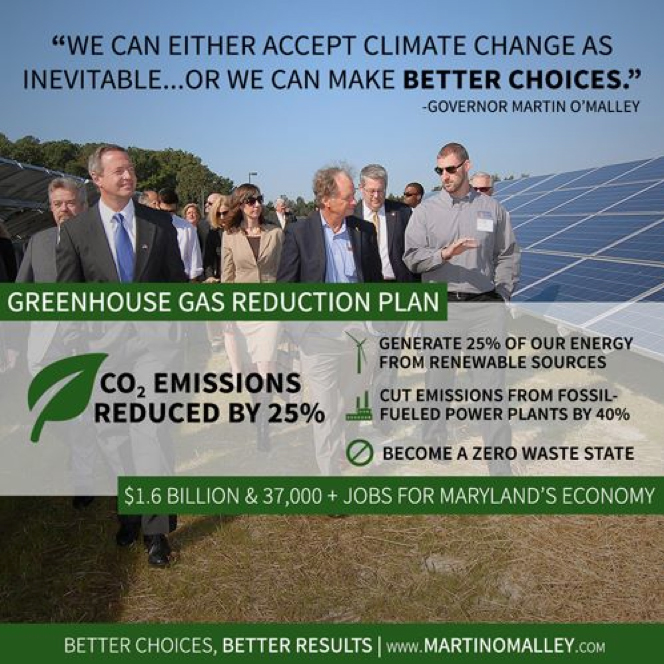 (Click on the image to open a larger version.)
However, Gov. O'Malley and the Maryland Department of the Environment (MDE) are not planning to advance Zero Waste, but something else altogether.
On page 71 of the Maryland Green House Reduction Plan (GRRP) it states,"Zero Waste: Maryland's long-term strategy to an 85% reduction in the generation of solid waste by 2030." This sounds like an excellent goal, and the right plan until you go to the "Zero Waste" section on pg. 152 and read it in its entirety. On page 156 it's stated that , "…there is a role for WTE as a bridge technology in the State's greenhouse gas mitigation strategy."
An incinerator bridge? Where is that in the Zero Waste hierarchy? It's not.
During the drafting stages of this plan I provided correct information about Zero Waste, and asked who authored this section with an offer to help make the corrections. (Note: To date, even after submitting a Maryland Public Information Act Request, no one will provide me with the names of anyone who worked on this section of the plan.)
Upon the issuance of the final report I saw there had been no correction of use of the term Zero Waste. I then contacted Mr. David Costello, Deputy Secretary for Policy and Planning at the MDE, and after a series of emails, picked up the phone and spoke with him directly. Mr. Costello made it clear he wasn't going to be held to anyone's definition of Zero Waste.
In reaction to the governor's and the MDE's incorrect use of the term Zero Waste, Gary Liss, Chair of the ZWIA Zero Waste Certifications Committee of the Zero Waste International Alliance responded with a letter to Gov. O'Malley (see the full letter below). In part the letter states,
"Unfortunately, the Maryland 2012 Greenhouse Gas Emissions Reduction Act Plan does not conform to the ZWIA Zero Waste definition and principles since it includes "waste-to-energy" as a "bridge" to Zero Waste. ZWIA urges that communities no longer invest in waste-to-energy facilities, as they directly compete for resources with real Zero Waste policies, programs and facilities. Real Zero Waste offers much greater carbon reduction and greenhouse gas reduction potential than waste-to-energy facilities.

We therefore urge you to either eliminate your state's plans for "waste-to-energy" or, at a minimum, do not continue to call such facilities a bridge to Zero Waste, as they are direct competitors. We view this as a direct infringement on the Zero Waste brand that we have worked for over a decade to develop."
Following receipt of the letter from ZWIA, I provided Mr. Costello with this information from Recycling Works! in support of the economic benefits of Zero Waste as opposed to Maryland's Fake Zero Waste which includes incineration:
• Recycling sustains 10 times more jobs per ton of waste than incineration or landfills; and for every job created by burning and burying waste, 25 recycling-based manufacturing jobs can be created from the same amount of waste.
• Recycling industries provide 1.1 million U.S. jobs. Stimulating recycling industries with incentives, while removing subsidies for landfills and incinerators would create many more good jobs in virtually every community in the U.S.
• Union recycling firms provide starting wages of approximately $20 an hour, as well as healthcare benefits and safer work conditions – conditions essential for workers to support their families and communities.
The MDE is currently working on Maryland's Zero Waste Plan which is suppose to be released in draft form the end of February or the beginning of March 2014. I suspect the Maryland Zero Waste Plan will model what was written in the GRRP, since Mr. Costello's position is that he and the State of Maryland will not follow the only peer-reviewed internationally accepted definition of Zero Waste.
If you have comments about the upcoming Maryland Zero Waste Plan (as well as asking for corrections to the GRRP), please direct your comments to:
David Costello, Deputy Secretary
Maryland Department of the Environment
1800 Washington Blvd, 7th Floor
Baltimore, MD 21230
(410) 537-3084 (phone)
(410) 458-2118 (mobile)
(410) 537-3888 (fax)
dcostello@mde.state.md.us
Maryland deserves better than Fake Zero Waste.
---
A few good resources about Zero Waste
Institute for Local Self Reliance
http://www.ilsr.org/tag/zero-waste/
Grassroots Recycling Network – Zero Waste
http://www.grrn.org/page/zero-waste
10-year Bridge to Zero Waste
http://ecocycle.org/bridgestrategy
The Zero Waste Solution: Untrashing the Planet One Community at a Time by Paul Connett with a foreword by Jeremy Irons (Chelsea Green, Nov 2013)
http://www.chelseagreen.com/bookstore/item/the_zero_waste_solution:paperback
---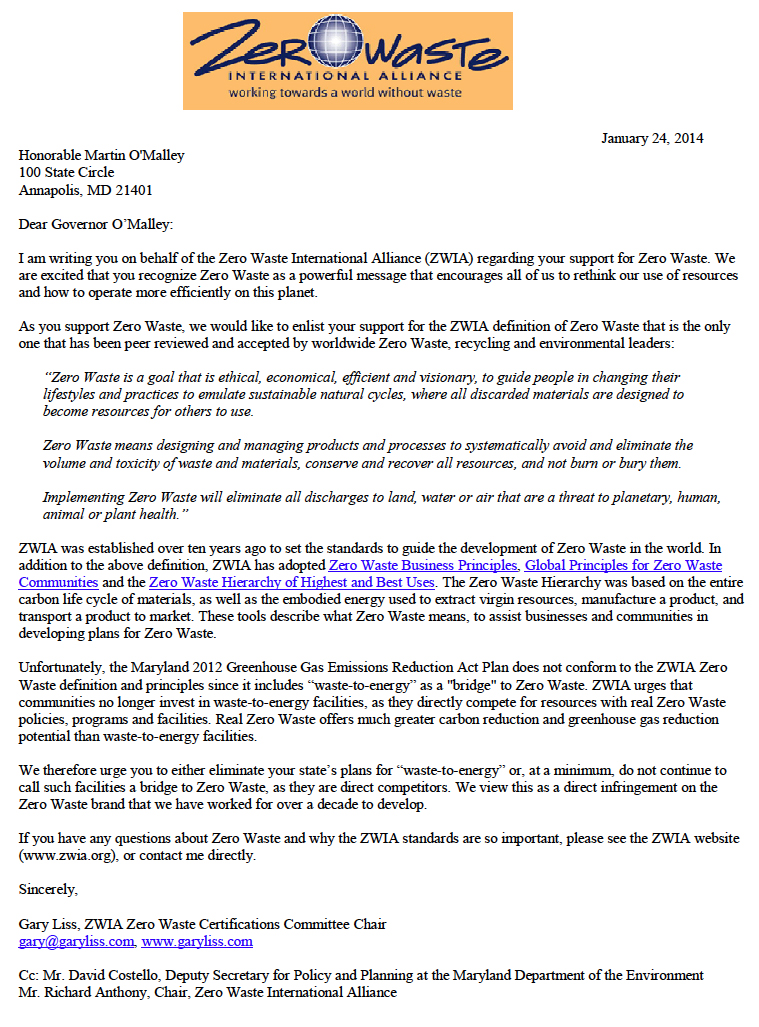 (Click on the image to open a larger version.)