I've been thinking lately about how some landscapes make me feel more connected to nature, and others don't. About the role of human activity, and artistry, in landscape design, vs. the role that nature wants to play. And how to keep a balance that favors the natural side, but still lets the landscape do "our" things, like grow vegetables, and have some area for a patio, or for the dog and kids to play.
Along this line of thinking, I absolutely loved reading Anne Raver's piece in the NY Times about a couple's 100-acre project in Virginia:
"MIDDLEBURG, VA—This 100-acre rolling landscape in the middle of horse country was an old cornfield when Wayne and Beth Gibbens bought it in 1990.

"'Not one tree on it,' said Mr. Gibbens, a retired Washington lobbyist for the oil and gas industry. "The cornfield was so overgrown with poison ivy, we had to cut it with chain saws."

"…Without the cover of evergreens and deciduous trees, there were few birds, except for starlings and crows. And as a founding member of the Lady Bird Johnson Wildflower Research Center in Austin, Texas, Mrs. Gibbens was determined to encourage wildlife."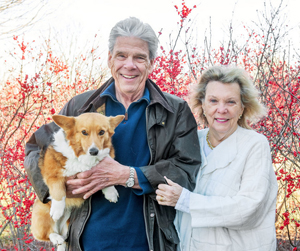 They worked the property for many years, planting trees and removing invasives, before they hired any help.
So their designer, Gary Smith, was wise to begin by asking them to show him all the places they already liked to go:
"They took him along the paths they loved to walk and showed him Picnic Rock, where they like to sit and dream, the hill where the groundhogs lived, the slope where they freed the young sycamores from choking vines, and the stream in the dappled glade with its mossy rocks.

"'Every place has a narrative,' said Mr. Smith, who believes that naming places invests them with meaning that deepens with each experience."
These lucky folks had room for a pond, and there was already a creek running through the land. They put up numerous Purple Martin and bluebird houses and were rewarded with immediate occupants. They watched a fox bring a fish to her young, and they caught and cooked crawfish over a campfire.
Check out the rest of the article here:
http://www.nytimes.com/2013/12/19/garden/where-the-wild-things-are-now.html
I think this is one of the key reasons to plant native plants—to have these kinds of visitors showing up in a previously barren landscape. Such a great feeling…helping nature re-establish a foothold of any kind.
That couple worked very hard, for many years, to transform their very large landscape. But in some ways the smaller landscapes that most of us have are even more challenging to transform. Less work over less area, perhaps, but harder, trickier decisions to make: do I try to create a narrow strip of forest along the edge, or save the sunshine for a vegetable garden? If I put in beautiful native shrubs that provide food and cover for the birds I'd love to see, can I do it in such a way that the dog can still run in the back yard? Will the HOA get upset if I put in a strip of meadow along the edge of the fence so I can enjoy the butterflies and do what I can to help honeybees?
These can be tricky decisions, sometimes, but well worth the work, if it leads to a landscape that inspires a feeling of kinship with the natural world.