[EDITORS NOTE: The following is an edited version of public testimony offered at the July 10th hearing at City Hall.]

Good Evening Alderman, Mayor
We are here this evening to discuss the feasibility of maintaining our vision of Mixed Use zoning on the Fredericktowne Mall property, or to change the zoning to General Commercial at the request of the developer and Wal-Mart. What was supposed to be a straightforward zoning issue has become much more than that, and now we're discussing issues and choices that can have a real effect on our great city for years to come.
After listening to the initial presentation, I was stunned to learn that the primary issue on the table here was about the "conditions" incorporated into the plan submitted by Wal-Mart. Are the Aldermen and Mayor putting the cart before the horse by considering and debating specific conditions on a preliminary site plan before voting on the zoning of the property?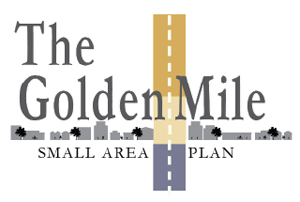 Our community worked long and hard to develop the Golden Mile Small Area Plan as part of the broader efforts to revitalize the west end of Frederick. As Alderman Kelly Russell said at a recent meeting, referring to property on the west end, this land is the heart of the city.
We developed a plan that would provide a more eclectic environment and atmosphere, to reduce the expanses of blacktop, and the run-off that goes with them, and to create a better sense of place for those living in the area and within our city.
Frederick is becoming less and less hospitable to young families today. It's getting harder and more expensive to commute to better paying jobs down the road. We need more employment opportunities here, but good and decent full-time jobs that offer reasonable wages — wages that can help support a decent quality of life for a family, in a prosperous community.
Changing the plan to add still more low-paying, part-time jobs with few benefits is not the answer, and it certainly isn't a positive contribution to our sense of place, and what makes Frederick special.
City residents have been presented with misleading and inaccurate information about the job opportunities and salaries that will come with this zoning change. Just this week, the news from Washington DC exposes similar false assurances previously offered by WalMart, which is threatening to pull out of the city if they are required to pay a still-low "livable wage." DC Councilman, Vincent Orange, stated, "If you don't stand up to something, you will fall for anything." What are Frederick elected officials going to stand up for?
Even if there was time, it would be fruitless to revisit all the issues that come with this plan. You have already heard and certainly know how many of us feel about this situation.
Some have been fooled by the descriptions of a few extra trees, perhaps a few statues or an outdoor café. But others are still able to see the real outcome — the construction of yet another huge, big box store, that won't be substantively changed by a few cosmetic alterations. This is about a lot more than using brick on the facade of the the building.
I have spoken with friends and others from places like Middletown, Sharpsburg, Boonesboro and Thurmont who are watching…and hoping for something different that would attract them to Frederick. It isn't Wal-Mart!
Throughout these negotiations, we have heard a lot of discussion about the demographics of our market — our city. But the traveling I've done in recent months have been further broadened my perspective and understanding of the possibilities. I've observed some stunning things happening in areas where the "demographics" are not better than they are here.
For example, I was a Special Educator at North Forestville Elementary for years, and spent hours traveling between Frederick and Forestville every day. That area of Prince Georges County has had serious and chronic problems with crime, drugs, poor-quality housing, and more.
I visited the area again recently and was amazed at the new and gorgeous town center-type of development happening there, offering residents an attractive place, to eat, play, work, live and shop.
I also visited the communities of Berwyn Heights and Riverdale, which have very depressed areas. They are moving forward with similar town center development, which they call 'hubs' and they've been able to entice the federal government to commit to open offices that will bring job opportunities far better than part-time minimum wage jobs.
I went to Edgewater, Maryland, and discovered still another amazing area that has been redeveloped with the same sort of attractive mixed use town center, with offices, shopping venues, restaurants, parking garages and appealing apartments and condominiums.
Frankly, it was shocking to see all of this while our great city is being told that our demographics won't support that here, and that we have to rush to settle for another massive big box store, in another retail-only neighborhood. It's appalling!
The real question is very simple. Do our elected officials listen to the citizens who comprise our community, or do they listen to the self-interested developer and the largest retail company in the world?
Do our elected officials treat all areas of our city in an equal manner?
Do our elected officials invest the same effort and resources in the west end of Frederick as they have invested in our downtown?
And, what will be the legacy of elected officials that can't get beyond worn out in-the-box thinking — even if it a "big box?"
Finally, I'd like to ask the Alderman and Mayor if they would vote for a zoning change to allow a WalMart Supercenter in their neighborhoods…or on the edge of downtown Frederick?