A little girl named Rachel walks into the hoophouse, as she does each Friday. "What are we planting today, Denise?" she asks our farm volunteer.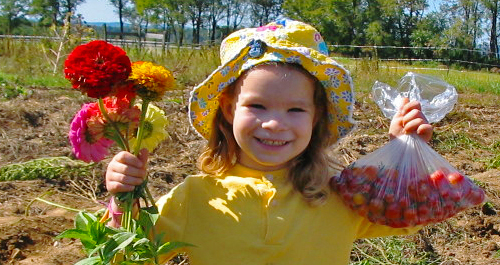 Rachel is six and she is learning all about growing food. She squats next to Denise at the prepared garden bed and makes holes in the soil to plant the baby lettuce seedlings. Rachel's mom is collecting her Community Supported Agriculture (CSA) share veggies. It's just a few minutes before her mom calls her to go. But Rachel will be back next week. She'll be sure to check in the hoophouse to see how those lettuce plants are growing, and she'll notice when they are part of her CSA share of the harvest.
Witnessing this little scene warms my heart. My mission on the farm is to connect people to their food, community and the land. These weekly visits to the farm do all those things for Rachel and other CSA members. It's not just an errand to get the groceries. Being a member of our CSA gives Rachel and her family a deeper connection to their food source and supports a farm in Frederick County. They know their farmers and witness the growth of their food. Rachel and other kids learn how vegetables grow and make the important connection of where their food comes from.
Why is this connection important? A lot of kids are growing up without seeing farms on a regular basis. A farm is a novelty place to visit. This goes for the grownups too. Food comes from the grocery store. How do carrots grow? What is kale? The connections get fuzzy, the produce is tired from its travels by the time it arrives on their kitchen counter, and their enthusiasm for fresh food wanes. CSA member Michelle Guillette wrote this poem:
We are learning to grab veggies
tear them in half
enjoy them in their fresh virgin state
This is a revelation
I am reminded how people get blasé about vegetables. It comes from overcooked soggy broccoli and tired greens. I had forgotten how tasteless a tomato in January can be, gassed to ripeness in its travel box. How a cucumber can taste like water, flavorless and hollow. I grow organic veggies that inspire you with wonder and awe as you witness their growth, the field's bounty, tend the rows, harvest the fruit; veggies that inspire you with craving and motivation to eat. Inspiring. Grown here, local, organic and fresh. Vibrant food. It really is a revelation.
Sometimes a taste awakens the children, sometimes it awakens the grownups. Sometimes it awakens the students, just shaping their career direction. Allison was a college intern on the farm and tasted an heirloom tomato in July. She thought she hated tomatoes. That was before she tasted an heirloom tomato—an old time variety bred for its flavor, not for red color and a tough skin that can hold up in long transport. With me as her witness, she tasted a Cherokee Purple tomato and I saw her eyes light up, her whole face brighten, and her world view begin to transform. Allison spent time on the farm, ate the fresh produce, and realized she didn't need to look globally to make a world of difference. Local agriculture can empower individuals and change communities. It redirected her goals. Allison is now pursuing her Masters degree in Public Health-Environmental Health Sciences, with dreams of working with low income communities and places with food deserts to bring them access to affordable, natural, organic, sustainably-managed food.
It keeps happening. The students visit the farm and awaken their interest in growing food. They plant a row of onions and feel the quiet of a soothing, repetitive task–growing food. It is simple, yet empowering and deeply satisfying. The high school students plant onions and comment on how busy their lives are, how hassled and pressured they feel with full course loads. They plant more onions. It calms their brains. It feels good to slow down and grow food. Something about the process of gardening soothes the mind, quiets the thoughts. It is the gym and therapy combined.
Can growing a garden or joining a CSA really make a big difference? I believe it can. A garden can empower an individual, manage stress, feed them essential healthy vegetables, and reduce financial stress. There is something about growing your own food or simply witnessing its growth. If someone is ailing, it can enrich the road to recovery to grow some of the healthy foods that are part of the solution. Plant yourself a few kale plants. You won't be able to resist the fresh leaves of one of the healthiest green vegetables, when it's thriving right in your own garden or in a big pot along your walkway.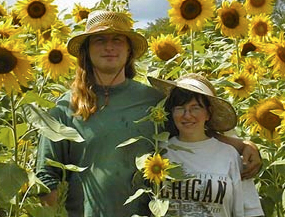 Joining a Community Supported Agriculture (CSA) farm can also bring you this vitality of fresh food and a connection to its origin. CSA is supposed to be a direct farmer-consumer connection, so make sure your CSA farmer is the one growing the food they distribute to you, or labeling the exceptions to the rule. Let your farmer fill your kitchen with a diverse bounty of their produce that will enrich your health, lift your spirit, and connect you to your food sources. Ideally, deepen that connection by choosing a CSA that is convenient enough for on-farm pickup, so you can witness the growth of your food on a weekly basis. Better yet, find a CSA that invites you and your family to get involved in the process of growing and harvesting the food. It will feel like you are paying for a family activity, environmental education and gardening classes all in one–and getting fresh vegetables as a perk. Or at least you could see it that way.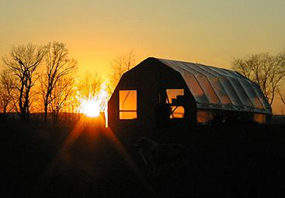 This spring, grow a garden, join a CSA, help a neighbor in the garden—connecting to your food sources can bring you empowerment, peace, joy, meditation, better health and many delicious meals.
---
More…
House in the Woods Farm
http://houseinthewoods.com/
House in the Woods Farm on Facebook
https://www.facebook.com/pages/House-in-the-Woods-Farm/51740987401
Ilene's extensive writing on Mother Earth News:
http://www.motherearthnews.com/search.aspx?tags=%22+Ilene+White+Freedman%22
Upcoming classes by Ilene White Freedman:
The benefits of getting dirty: How playing in the dirt can help your clients.
A workshop for those in the healing professions. Fox Haven Learning Center on March 20, 2014
http://www.foxhavenlearningcenter.org/content/benefits-getting-dirty
Weed and Pest Control in your organic garden (with Phil).
Common Market education room on March 6, 2014
http://www.commonmarket.coop/ai1ec_event/weed-and-pest-control-in-your-organic-garden/?instance_id=
Creating needle-felted faces: an introduction to the art of needle-felting.
Common Market education room on March 26, 2014