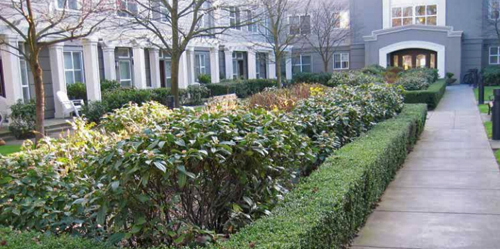 A new publication from my colleagues in NRDC's water program shows how green infrastructure practices – integrating nature strategically into urban environments to control runoff and enhance other environmental values – can help advance the bottom line for the commercial real estate sector. It is a highly illustrative and well-documented report.
In particular, The Green Edge: How Commercial Property Investment in Green Infrastructure Creates Value (disclosure: I reviewed and commented on a pre-publication draft) draws from all available published material to capture the multitude of quantifiable financial benefits that green infrastructure investments can generate for commercial property owners and their tenants. Green infrastructure can include trees, rain gardens, porous pavement, rainwater harvesting cisterns, bioswales, and related techniques. In addition to their commercial value, these strategies have substantial environmental benefits reducing environmental harms such as runoff pollution of waterways, sewer overflows, and urban "heat islands" that sap energy for air conditioning.
By assessing common commercial real estate portfolio types, including medium-sized office buildings, midrise apartment buildings, and retail centers, The Green Edge shows that cumulative benefits to property owners can exceed millions of dollars over the long term, whether the context is new construction or retrofits of existing developed sites.
These financial benefits include higher rents and property values, increased retail sales, energy savings, and reduced life-cycle and maintenance costs. As many readers will know, green infrastructure and other green building practices are also increasingly becoming a quality badge of honor for the private sector, because they illustrate a developer's commitment to healthier, sustainable communities and placemaking.
In a recent blog post, my friend and colleague Larry Levine adds detail to the report's main findings:
"On any given property, these benefits can add up to big money over the long-run. Our report includes three examples that show the potential cumulative value of a suite of green infrastructure retrofits to the owners and tenants of medium-sized office buildings, midrise apartment buildings and retail centers. In both the office building and apartment building examples, the total present value of benefits approaches $2 million over 40 years; for the retail center, benefits exceed $24 million, including nearly $23 million of increased retail sales for tenants."
In a related article, Paul Davis, sustainable finance fellow with NRDC's Center for Market Innovation, shares more:
"In an effort to entice private property owners to invest in natural spaces, a number of municipalities have begun offering stormwater bill reductions for installing green infrastructure. For example in Philadelphia property owners can receive up to 80% off their ongoing stormwater bill in return for reducing runoff with green infrastructure projects . . .

"[But] stormwater fee reductions are just a small fraction of the total package of financial benefits that accrue to property owners that invest in green spaces . . . The Green Edge's compiled research findings suggest that re-investing in natural landscapes can produce up to 7% rental premiums, notable increases in retail customer spending habitats, as well as reductions in heating and cooling costs through enhanced insulation (green roofs) and shading/wind-break services (trees)."
I have long been a champion of green infrastructure for the simple reason that humans love nature. It is a way of softening the sometimes hard edges of city density and making that urbanity – which is absolutely essential to a sustainable future – more appealing and feasible. It is good to know that it also makes good business sense. You may download the full report or an attractive, fact-filled issue brief from NRDC's site.
---
Kaid's newest book, People Habitat: 25 Ways to Think About Greener, Healthier Cities, will be published January 6, 2014, and is available for pre-order now.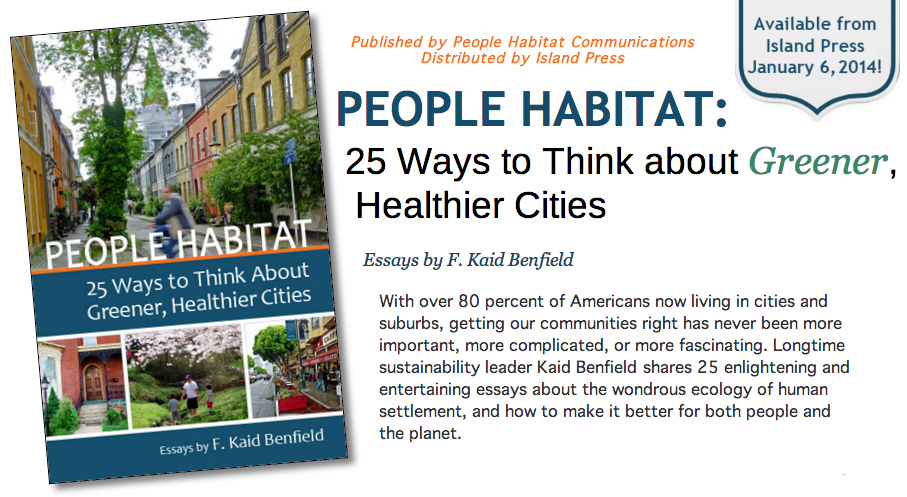 Click on the image to open a larger and easier to read version.