EDITOR'S NOTE: On Saturday, November 9th, in front of Winchester Hall in Frederick, former county commissioner Jan Gardner formally announced and launched her campaign to be the first county executive of Frederick County under the new charter government. (In November of 2014, Frederick County voters will elected a county executive and all seven members of a new county council.) Gardner previously served three terms on the Frederick County Board of County Commissioners (1998 to 2010), serving as president of the board in her third term, after garnering a record number of votes. Most recently, she served as State Director for U.S. Senator Barbara Mikulski. After being introduced by her husband John, Gardner spoke to a crowd of at least 200 friends and supporters. The following is the full text of her speech (NOTE: The speech varied slightly from the published text.).
Isn't it a beautiful day in Frederick County!
Are you excited?
Are you ready to bring back good government?
Are you ready to restore trust and ethics in government?
I am excited! I am energized. I am ready to go!
I want to thank my husband John for the wonderful introduction. He has been a wonderful husband, a great father to our three children, and a fabulous life partner. We have been together for 30 years and he has always been supportive of my public service. Last night before we went to sleep, he said to me: "It is going to be a long tough road. People will be mean to you and attack you. I want you to know that I will always be here for you."
Thank you, John. I couldn't do it without you.
I also want to recognize our daughter Rachel who is representing our three children today. Rachel lives right here in downtown Frederick. Our daughter, Mallory is attending physical therapy school at Boston University in Boston. Our son, John and his wife Kelly live in California and could not make it today, but they are with us in spirit. I received an e-mail from my dad this morning that said "Go full out. Give them you best shot!" My whole extended family is cheering me on!
I would like to introduce the dignitaries in attendance. [Introduced representatives from Senator Mikulski and Senator Cardin; introduced municipal elected officials; and introduced current and former Board of Education members. Four members of the Gardner Board of Commissioners are in attendance – current County Commissioner David Gray and former Commissioners Kai Hagen and Lennie Thompson.] The Gardner Board was a good example of bi-partisan cooperation. While we represented different political parties, brought varying life experiences to the table, and often had different ideas and approaches to problem solving, the Board was hardworking and productive. Everyone was honest, debated the issues on their merit, and while sometimes disagreeing, always had the best interest of Frederick County in mind.
I want to thank all of you for attending and for this resounding expression of confidence and trust in me. Over the past few months, I've had a wonderful time meeting with people and talking about the future of Frederick County. I have heard from so many people in personal and touching ways, encouraging me to run for office again, and volunteering to help the campaign. The show of support has been tremendous and shows that people are ready for change.
So after a lot of thought and deliberation, I officially filed to run for Frederick County Executive yesterday!
Working together, we are going to make a difference. We are going to show that community matters, and that good government can work to ensure a positive future for Frederick County.
So, I'd like to tell you why I am running and what I hope to accomplish!
I want to ensure openness and transparency, restore trust in government, and re-focus on serving the people of Frederick County. Our community is a special place because of the people who live here. Government service is about serving people.
I will provide experienced leadership to ensure a smooth transition to our new charter government and will make sure our county has a seat at the table with state leaders. I spent a lot of time in Annapolis as the President of the previous Board of County Commissioners, including a year as the President of the Maryland Association of Counties (MACo). And, I served as the state or district director for a U.S. Senator. I know our elected officials in Annapolis and in Washington and I have a working knowledge and personal relationships that no one else entering this race will have.
On a personal level, I invested 12 years of my life to serve Frederick County as a county commissioner and I simply cannot believe how much damage has been done over the past three years.
We have to repair the damage and put the county back on a solid path toward prosperity. People need to be able to trust their local government, and know it has the right priorities. We all want to be proud of Frederick County.
My vision is for exceptional schools, a safe community, a vibrant economy, and a place where we all feel a sense of belonging and community. Like you, I want Frederick County to continue to be a special place, where we care about each other, and recognize that we are all in it together.

As many of you know, I first got involved in local government as a citizen speaking out about the issue of school overcrowding. Through that experience, I learned that nothing is more important than making sure people can participate in the process and make a difference in their own community. Elected officials need to hear a diversity of opinions. I will restore open and transparent government to Frederick County. The public deserves to know what its government is doing. Government functions best, and makes better decisions, when the legitimate and sometimes competing interests of the community are balanced.
I have watched the recent public hearings about the Monrovia Town Center, and congratulate and applaud the many citizens who have done their homework and come out to speak. They have done a marvelous job. I was however incredibly saddened and embarrassed by how poorly they were treated — Cut off mid-sentence, ridiculed, and treated rudely. I felt a strong desire to come into Winchester Hall to defend their right to participate in the public process. Citizens need to be treated with dignity and respect. I will always encourage and welcome public involvement. We are in it together.
Likewise, I applaud and stand with those who are advocating to save the Montevue Assisted Living Facility and the Citizens Care and Rehabilitation Center.
For almost 200 years, we have taken care of people in need in our community at Montevue. To sell these facilities at a significant financial loss – at least $20 million – with no plan in place on how to take care of people is fiscally irresponsible and morally vacant.
If there is a silver lining, it is the way people have responded. I am encouraged by people in the community standing up for what they know is right and important in the community. I am so impressed by people working together for the common good of the community. I am proud to stand with you. And I want to fight for you.
It is people that make our community special.
So what does it mean to restore trust in government? I propose the creation of a truly independent ethics commission, and stronger ethics laws that clearly state that county elected officials cannot profit from their position or do business with the county. And, I want to reinstate penalties, so there are consequences for serious violations.
In the 12 years I was in office, I don't remember having an open meetings act violation. Now it is a common occurrence. Restoring ethics and trust in government is job one.
The change to charter government is bringing a new era of governance to our county. I bring proven leadership to guide the transition and navigate the details while being inclusive, collaborative, and accountable.
It will be important for the new county executive to establish a functional and productive working relationship with the new county council, and to ensure open and transparent government, while striving to develop a governing consensus.
To accomplish this, I will focus on four key components: Shared knowledge, shared goals, effective communication, and mutual respect.
It is critically important that the council members are well informed and evenly informed. Communication must be frequent, timely, and problem solving. As County Executive, I will invest the time to work with the council to develop shared goals to ensure that we are all working together toward the same vision. I will establish an environment of trust and mutual respect.
One of the reasons many supported the change to charter government was to ensure that Frederick County would have a voice in Annapolis and a seat at the table. I know how to work outside the county to get things done, as demonstrated thru my experience as the President of the Maryland Association of Counties, where I advocated on behalf of all counties. I will make sure that Frederick County has a seat at the table with state leaders. I have demonstrated strong, working relationships with the state administration and state officials. I will work hard to bring money to our community for schools and needed transportation infrastructure improvements.
And, I will promote a positive image for Frederick County outside our community.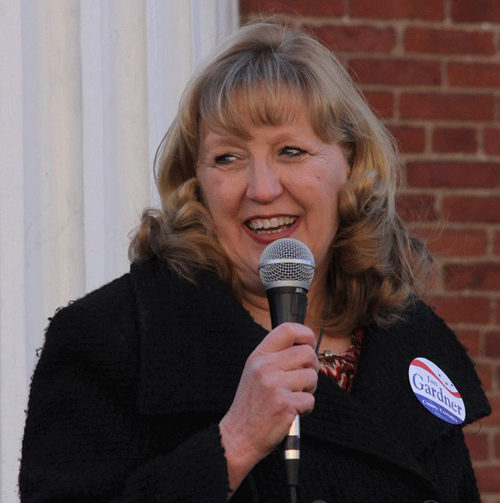 County government must focus on serving its citizens including education, public safety, citizen services, public health and much more.
Education must be a priority.
One of the greatest challenges we face as a nation is growing income inequality and the shrinking of the middle class. We cannot have a strong economy without a strong middle class. Local government plays a key role in challenging this trend. Public education has been and will continue to be the great equalizer and the path to opportunity. We must attract and retain the best teachers in our classrooms. We must provide access to technology for all students, expand gifted and talented programs, STEM (Science, Technology, Engineering, and Math) programs, and focus on closing the achievement gap by working to improve school attendance and through early childhood education.
You cannot run an educational system with a plan to "buy a lottery ticket" as one current official suggested to the Board of Education. We need a responsible four year plan. We need to fund education above the minimum required by law.
Education is not only important to our students and families, but is also the foundation of our economic prosperity.
For our community to prosper, we need to develop a well educated workforce and keep our talent here. We need to have a workforce prepared for the changes brought by globalization. There is a great opportunity to sell our products and services globally, and great schools are vital to prepare students understanding of world cultures and languages. Technology has changed, and will continue to change how we work. Students must have access to technology and be equipped to adapt to technological changes and to problem solving using technology.
Having a good job is essential to having a good quality of life. To support economic development – and jobs, jobs, jobs – we need to take full advantages of our opportunities. We need to be a good place to do business and that means being a place where businesses want to be. We need to effectively promote our workforce, our exceptional schools, and our high quality of life. We must improve our transportation system. We should leverage innovation and support proven programs to commercialize the research being done right here at Ft. Detrick, the National Cancer Institute, and in private biotech companies. I was a founding member of the Frederick Innovative Technology Center – our technology and innovation incubator which has been proven to create jobs and new start up companies.
We also need to collaborate regionally. Montgomery County and the Baltimore area are regionally collaborating to commercialize research with a focus on the life sciences. Right here in Frederick County, we have the second largest number of biotech companies in the state. We need to join in this regional collaboration and make it a research, life science, health science triangle. I support adding a Life Science business specialist in our economic development team to pursue this goal. Several years ago with added an agricultural economic development specialist to focus on the agricultural industry, and it has been very successful.
I also want to restore fiscal responsibility and efficient government services.
This means not squandering our county's assets by selling county facilities for significantly less than their value, making sure privatization does not cost the county more, and long-term conservative budgeting to keep the AAA bond rating earned during my term as President of the County Commissioners. During the last two years of my term, the county actually adopted budgets that were lower than the year before. We did this by asking every agency to participate while working to preserve jobs, essential services, and services to people in need. We prioritized education, public safety, and the human service safety net.
The current board has increased spending every year while cutting or eliminating many effective services that helped people – Head Start, human service non-profits, indigent elderly – while approving the largest budget in the county's history.
The majority of the current commissioners have declared government civil servants as the enemy instead of the front line people providing services to the community. But, we are all in it together. I will restore respect for county employees. I will pledge to work to rebuild county government with a focus on efficiently serving the people of Frederick County.
An important part of fiscal responsibility is managing growth responsibly so a cost burden is not shifted to county taxpayers.
In 2010, the Gardner Board adopted a comprehensive plan for the county's growth that included enough zoned land to accommodate 20 years of projected residential growth and 2,000 acres of land zoned for business and commercial development. We carefully planned for the development and funding needed to provide infrastructure and services – schools and libraries, roads, water and sewer, fire and rescue, law enforcement, parks – to go hand in hand with the planned growth.
But a massive wave of new rezoning by the current Board has increased the housing pipeline to 30 to 40 years, converting hundreds of acres of farmland where infrastructure is not adequate and will be expensive to provide. Most shortsighted has been the conversion of some prime commercial/business property to housing undercutting our economic development and job creation goals.
The county has entered into several contracts called Developer Rights and Responsibility Agreements. These agreements unfortunately provide great benefits to the developers at the expense of county taxpayers. These contracts lock in a long-term plan to overcrowd schools, increase traffic congestion on our roads, and hit every taxpayer in the pocket book. In fact, one contract actually allows a developer out of a prior agreement to build a school addition worth $8.0 million. The cost shift to taxpayers for infrastructure is hundreds of millions of dollars. These contracts will bind the county and negatively impact our county budget for decades. I believe I'm the best person to try to address the problems created by these agreements and I will certainly prevent the county from digging a deeper fiscal hole. I will work with the council to restore a functional Adequate Public Facilities Ordinance (APFO) so the county will once again require infrastructure – schools and roads – to be in place or provided concurrent with new development.
While there is not enough time to discuss every issue, I want to address the status of the Waste-to-Energy incinerator.
While the county has publicly provided little recent information about the status of the project, all the information available indicates that Waste-to-Energy is no longer viable.
Carroll County, a 40% partner in the project, has decided not to participate and has budgeted the $3.0 million withdrawal fee. No new partner has been identified. A smaller Frederick County only facility is not financially viable. Electricity prices have fallen dramatically as compared to the financial projections provided to the Gardner Board, negatively impacting the financial viability of the project.
So, what next? The Gardner Board implemented single stream recycling to single family homes in the county with a plan to expand single stream recycling to multi-family housing and increase business and commercial recycling. We need to reinvigorate the plans to expand recycling. Next steps should also include the following:
• Restore recycling drop off centers (eliminated by the Young Board)
• Institute a commercial compost pilot program for food vendors
• Expand resource recovery including partnership with others
• Gather information on Howard County's pilot composting program and the City of Aberdeen's pay as you throw program
• Negotiate long-term contracts to continue to ship the majority of the waste remaining after diversion, composting, and recycling to out of state landfills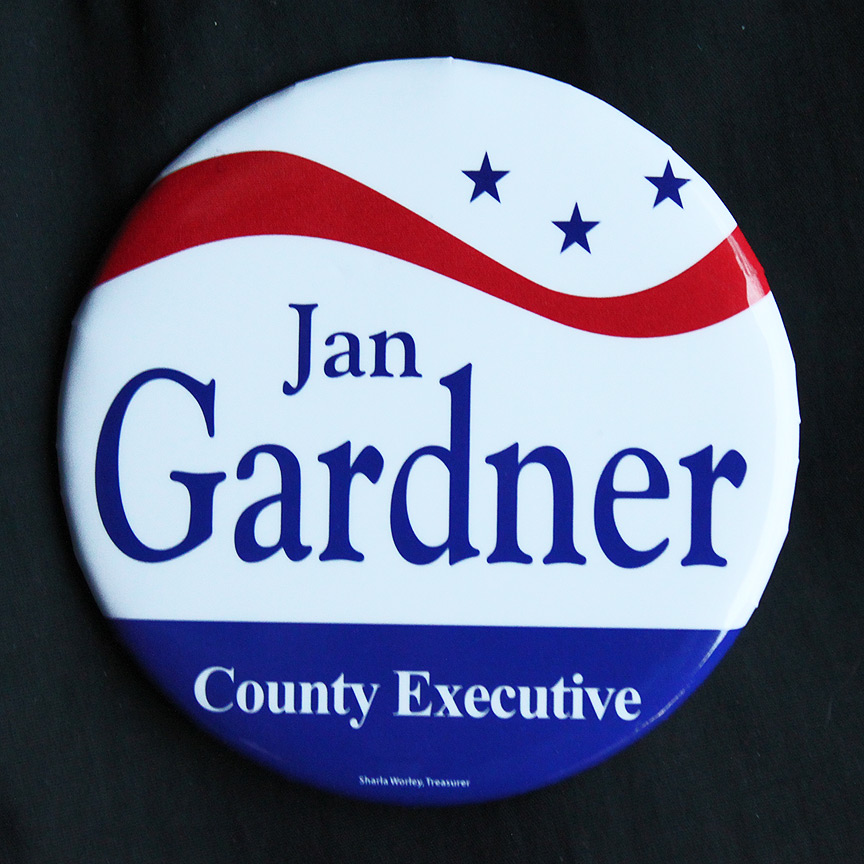 There is clearly a lot to be done. It will be a challenge.
It will also be exciting. I believe our best days ahead.
I want you to know that I am in it to win it!
Thank you very much for joining with me to make a difference to people and the future of Frederick County.
Thank you for understanding that we are all in it together and that good government matters.
I will need your help. It will be a difficult campaign. The stakes are high.
Let's stay energized! Onward Frederick County!
---
More information
Jan-Gardner-for-Frederick-County
On the web: http://www.jangardner.org/
On Facebook: https://www.facebook.com/pages/Jan-Gardner-for-Frederick-County/1410060002543450
On Twitter: https://twitter.com/JanGardner2014