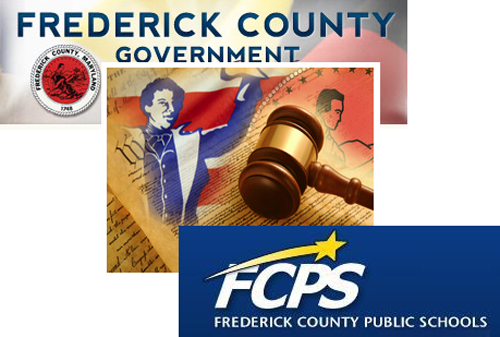 Elections are often as much about the past as the future. While history inevitably informs the present it's easy to get bogged down in arguments over what should have been done by those in office. The election for Frederick County Executive is shaping up as such a battle.
Although as of this writing Board of County Commissioner's president Blaine Young has not announced whether or not he will seek the Republican nomination for Frederick County Executive, his legacy will have an outsize influence on the race. From its earliest days, the Young Board established itself as leaning counter to the values and approach of the Gardner Board which preceded it. With former BOCC president Jan Gardner seeking the Democratic nomination for Executive, the stage is set for competing assaults on the governing decisions of the last 8 years.
There's plenty of fodder for a lively back and forth regarding government spending, tax cuts and increases, land development policy and social services reductions. No doubt it will be lively as well as negative. Perhaps it will be illuminating, but I doubt it. There are strong partisans on both sides who deplore their opposition and the odds are good that most voters will be more confused than informed.
But more than most this election should be about the future.
The first elected county executive and council will have to navigate a new governing structure and establish institutional norms that delineate areas both for their independence and cooperation. It's not a given that the two branches will work together smoothly. The Executive may attempt to dominate the new council or the new council may attempt to thwart the executive's initiatives rather than try to find common ground. Setting a precedent which respects the prerogatives and independence of both branches while fostering a spirit of cooperation will be crucial to the county's future governance.
It's not likely to be a theme in the election but it transcends many of the issues that will be the focus of debate.
Thinking about our schools
One area that is likely to be poorly discussed by the partisans in the next election is finding the right balance for spending. There is no more important area of county spending than the roughly 50% of the budget dedicated to our schools but the political discussion tends to get distilled down to a question of whether we should restrict funding to Maintenance of Effort requirements or fully fund requested increases in teachers' salaries.
No one who looks seriously at our schools' needs can deny that we need to provide competitive pay and benefits–and that means meaningful pay increases–which are impossible to provide in an MOE-constrained budget. But nor can anyone be sanguine about the sustainability of budget requests that exceed 7% of last year's funding levels as does the FY 2015 proposal from the Board of Education.
The BOE is an independent body but finding ways for its members and the new council and executive to work cooperatively to establish a better paradigm presents both opportunity and risk for our new structure. Any serious discussion of school spending has to start with compensation. The challenge is that we have to find ways to pay more—but we also need to do it in smarter ways that allow us to attract and retain the best teachers without creating an unsustainable system of increases that exceed the growth of county revenues.
It won't be easy because changes to pay and benefit structures always harm some at the expense of others but there are areas that should be open for discussion. For example, in the past the BOE has sometimes used money that should be allocated to fund the benefit which subsidizes health insurance costs for retired teachers to fund other needs. It's an easy out but if they are not willing to fund it properly, they should negotiate it away. Perhaps, the BOE could offer teachers who are willing to forgo that benefit an equivalent increase in pay in exchange. It would not save any money but it might make the tradeoff more tangible and would reduce the long term liabilities that would otherwise accrue.
As the funding source for half of the BOE budget, the council and executive will have a role to play in helping the BOE find new approaches that can enhance performance and morale.
Encouraging risk-taking
If we want to make things better we need to be willing to take some risks to get beyond the status quo.
Such approaches will inevitably require experimentation and failure. Government is usually poor at tolerating failure because after the fact it's easy to see why a new initiative was unsuccessful and cast blame on those who allowed it to happen. But failure is the price we pay for progress and finding ways to try new approaches which entail reasonable risks is a prerequisite to improving our county's government.
All of our citizens have a role to play in this effort. Employees, business owners, labor leaders and ordinary citizens can identify initiatives we could try that could lead to improvement. Many, perhaps most, will not be worth doing but a few might.
Here's one idea to start the discussion:
Initiate discussions with BOE stakeholders to establish a pilot program in two or three schools that would empower principals to act like CEOs. They would have freedom to hire and fire with less oversight and offer salaries and bonuses which based on their expectations and evaluations. Give them a global budget to pay for all of the costs but give them the flexibility to allocate the funds as they see fit. I see lots of reasons why this kind of an approach might not work but I also know that great things can happen when you empower people to create a new reality.
What's your idea?
---
Please go to this conversation on Facebook to share your thoughts and ideas with Fred and others: https://www.facebook.com/EnvisionFrederickCounty/posts/10202136019896569