"This is my goal. I want all my plants to do this!" my friend Shirley announced. We were working in my front garden, and she had come across the New Jersey Tea (Ceonothus americanus). It was covered with fuzzy white blooms, and each bloom was crawling with several small pollinators grooming the tiny, powdery white stalks. It was a busy, buzzing scene, this little shrub less than two feet tall. But until Shirley uncovered it, it had been in danger of being smothered by an aggressive assault.
We were working this morning not as gardeners but as policemen. The purple coneflowers (Echinacea purpurea) had escaped their designated area and were attempting to dominate the entire garden. Paths had become choked with top-heavy, 3-foot tall checkpoints of Echinacea buds, and I knew I had little time to get them out before their blooms opened, at which point I would most certainly fall victim to their charm. Then, after the bloom, I knew I would feel compelled to leave the seed heads up to watch the goldfinches.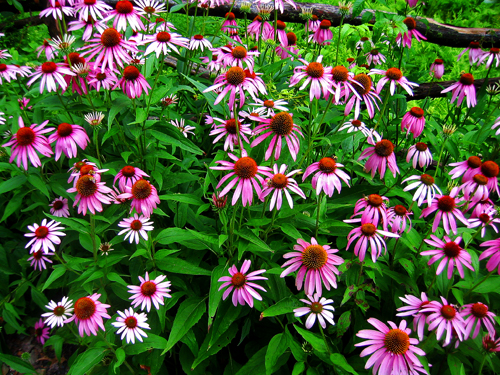 Purple coneflowers (Echinacea purpurea)
So we worked quickly. Shirley Ford, my gardening friend and savior, dug neat holes around the plants as I handed her black, plastic pots into which she then lifted the awkwardly tall plant bundles. Later today she would re-plant them all near her pond, where the coneflowers' natural aggressiveness would be put to good use preventing the return of invasive, Japanese stiltgrass.
Not too many plants will tolerate transplanting in 80 degree heat, but coneflower is a tough rarity. A few days ago I finished the last of my "spring" client garden installations for this year (these last few only on moist, shady sites, to be sure!). Now with summer's heat there is the opportunity to relax a little, settle back, and enjoy the colors in my own garden.
I remember bouts of intense frustration, during my university classes on planting design, with a well-meaning instructor who advised us to get to know as many exotic perennials as possible in order to enhance our "color palette." Since I was doing my own, all-native adaptation of the class, it was quite a challenge to complete the exacting, color-specific assignments.
But now, years later, I can enjoy the native color palette as it naturally unfolds (and just be a tad careful about what gets planted close to what, sometimes).
For its bright red and yellow, deep-throated bloom, the hummingbirds are favoring Indian Pink (Spigelia marilandica) in my garden right now. The odd name apparently refers to the color of the mature plant's root, although to be honest I've only ever seen the young, white roots of this plant as I'm planting it. I put five of these in my own garden, but only two have made it long term. Those two, however, have been well worth the investment: they are full and healthy, and offer a vigorous second bloom later in the season. (More hummingbirds!)
Spigelia marilandica, or Indian Pink, has a strikingly colorful bloom that hummingbirds enjoy.
Pale lavender Stokes Asters (Stokesia laevis) have just popped open here as well. Although native to North America, these asters are not native to Maryland. They are, however, loaded with nectar that attracts fritillaries and other butterflies to my garden, and have a reputation for being rabbit resistant. They are also available as cultivars in a quite a few shades of blues, pinks, and lavenders, making them quite useful to gardeners with dry, clay slopes (as well as landscape design students attempting to complete difficult planting design assignments).
And then there is the color that is easiest to find when it comes to very useful shrubs with high wildlife value: white! There are so many excellent, white-blooming shrubs and perennials with high wildlife value that white can be used as a filler, giving a calm, neutral space between colors that might otherwise be jarring to some. New Jersey Tea is doing that now in my garden. In fact it's doing such a good job that I'm going to put in more.