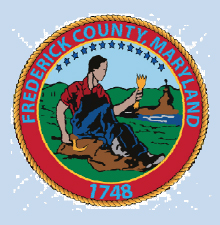 A growing number of candidates have filed to run in the Frederick County elections for county executive and seven county council seats this year. And yet, with just one week remaining before the filing deadline (Tuesday, February 25th), only three of thirteen potential Democratic and Republican party primaries would be contested if no additional candidates filed in the last few days.
That isn't going to happen, though. A few candidates have made their intentions clear, but just haven't made it official yet. And there are likely still a handful of folks who have been considering a run, but really haven't decided yet.
But there is another category: People who know they are going to run, but for one reason or another don't want others to know that they are running, and/or don't want to reveal which race they will be entering.
For example, Commissioner Blaine Young has almost certainly decided what he is going to do, but it seems he isn't going to clear that up for other candidates or voters until the very last hours of the last day one can file.
Commissioner Billy Shreve is going to run, but it appears that we won't know if he is running for county executive or one of the at-large county council seats until Young files…or doesn't.
Beyond that, it seems to be common knowledge among those who pay close attention that Blaine Young has been actively recruiting candidates for some time, and that at least some of them are also waiting until the last day to file.
In addition, a few comments were heard at Winchester Hall yesterday that seem to confirm Blaine Young's intention to build and support a "slate" of candidates in the primary. That is not surprising, of course, especially given the success of a four candidate slate in the thirteen candidate Republican primary in 2010. It will be a little different this time around, though, since, aside from having two winners in the primary for the at-large council seat, each council candidate will run in separate districts, and only the first place finisher will advance.
Rumors of varying credibility abound as to who will be filing in the next week, but I won't post any of those other names here. We'll all know for sure pretty soon.
While it is likely that both major parties will have at least one candidate competing for each seat, as of Tuesday evening there was only one Republican filed for the two at-large seats, no Republican filed for county council District 1, and no Democrat filed for county council District 2.
Below are all the candidates that have officially filed as of Tuesday evening, February 18th, along with the map of each district. (You can click on any of the maps to open a larger version.)
---
County Executive
Jan H. Gardner
Democratic
Filed: 11/08/13
Email: jan@jangardner.org
Website: www.jangardner.org
Facebook: https://www.facebook.com/pages/Jan-Gardner-for-Frederick-County/1410060002543450
Contact Information
P.O Box 4268
Frederick, MD 21705
(240) 405-8180
---
David Gray
Republican
Filed: 02/07/14
Email: sharongrayusa@aim.com
Contact Information
9363 Devilbiss Bridge Road
Walkersville, MD 21793
(301) 898-7304
County Council At-Large (two will be elected)
Whitney M Duck
Democratic
Filed: 02/14/14
Email: whitney.duck@whitneyduckforfrederick.org
Website: http://www.whitneyduckforfrederick.org
Facebook: http://www.facebook.com/whitneyduckforfrederick
Contact Information
P.O Box 235
Brunswick, MD 21716
---
Linda Marie Norris
Democratic
Filed: 02/06/14
Email: lindam.norris@comcast.net
Website: http://www.lindanorrisforcouncil.com
Facebook: http://www.facebook.com/lindanorrisforcouncil
Contact Information
9227 Baltimore National Pike
Middletown, MD 21769
(240) 315-8876
---
Jonathon Pocius
Republican
Filed: 02/18/14
Email: jon@votejp.org
Website: http://www.votejp.org/
Facebook: https://www.facebook.com/jonathon.pocius
Twitter: https://twitter.com/jonpocius
Contact Information
3528 Urbana Pike
Frederick, MD 21704
(240) 215-4438
County Council District 1
Jerry Donald
Democratic
Filed: 01/22/14
Email: jerrydonald371@gmail.com
Website: http://www.electdonald.com
Facebook: http://www.facebook.com/JerryDonaldForFrederickCountyCouncil
Twitter: https://twitter.com/jerrydonald371
Contact Information
P O Box 235
Braddock Heights, MD 21714
(240) 405-5739
---
Richard A Maranto
Democratic
Filed Regular: 02/18/14
Email: rich@richmaranto.org
Website: http://www.richmaranto.org
Facebook: https://www.facebook.com/RichMarantoForFrederick
Twitter: https://twitter.com/richmaranto2014
Contact Information
8064 Geaslin Drive
Middletown, MD 21769
(301) 676-9918
County Council District 2
Stephens Ruffner Dempsey
Republican
Filed: 02/14/14
Email: sdempsey@dempsey4u.com
Website: http://www.dempsey4u.com
Facebook: https://www.facebook.com/groups/dempsey4u/
Contact Information
P.O. Box 412
Monrovia, MD 21770
(301) 788-4980
County Council District 3
M C Keegan-Ayer
Democratic
Filed Regular: 02/14/14
Email: mc4district3@earthlink.net
Facebook: https://www.facebook.com/pages/MC-Keegan-Ayer-for-County-Council-District-3/1451216111762493
Contact Information
P.O Box 748
Braddock Heights, MD 21714
(301) 964-0635
---
Luis O Mantilla
Democratic
Filed: 01/23/14
Email: luisnazareno56@live.com
Contact Information
10 Livingstone Terrace
Frederick, MD 21702
(240) 626-8312
---
Christopher James Mason
Republican
Filed: 08/05/13
Email: chrismason22@aol.com
Contact Information
2506 Shelley Cir Unit 1B
Frederick, MD 21702
(301) 788-6346
County Council District 4
Jessica Fitzwater
Democratic
Filed: 01/23/14
Email: jessica@jessicafitzwater.com
Website: http://jessicafitzwater.com/
Facebook: https://www.facebook.com/JessicaFitzwaterforFrederick
Twitter: http://www.twitter.com/jessfitzwater
Contact Information
1505 Dockside Drive
Frederick, MD 21701
(301) 639-7714
---
Robert (Bob) Lawrence
Republican
Filed: 01/28/14
Email: boblawrence5753@comcast.net
Contact Information
5753 Box Elder Court
Frederick, MD 21703
(301) 662-9185
County Council District 5
Mark Long
Democratic
Filed: 02/14/14
Email: mark@marklong.us
Website: http://www.marklong.us/
Facebook: https://www.facebook.com/MarkLongforFrederickCounty
Contact Information
P O Box 495
Thurmont, MD 21788
(301) 271-1756
---
Fred Wood
Democratic
Filed: 02/04/14
Email: fwoodsr@netzero.net
Website: http://fredwoodforcountycouncil.com/
Facebook: https://www.facebook.com/fred.wood.5602
Contact Information
PO Box 513
Thurmont, MD 21788
(301) 639-5787
---
Kirby Delauter
Republican
Filed: 01/27/14
Email: kirbydelauter@wfdelauter.com
Website: http://kirbydelauter.com/
Contact Information
2 Creamery Way
Emmitsburg, MD 21727
(301) 447-5881 x208
---
More information
County council members to be elected by districts in 2014: What district are you in?
http://www.envisionfrederickcounty.org/county-council-members-elected-districts-2014-district/
Maryland Board of Elections
Frederick 2014 Gubernatorial Primary Election Local Candidates List
(Candidate filings are updated daily.)
http://www.elections.state.md.us/elections/2014/primary_candidates/gen_Listings_2014_1__by_county_11.html