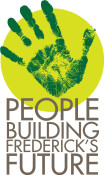 As a resident of Frederick and a devotee of historical preservation, I often have the personal pleasure of showing off our area to visiting out-of-town guests. There's the usual points of interest – Frederick's downtown historic district, the covered bridges, Burkittsville, Monocacy National Battlefield, Middletown, and of course, the C&O Canal. As I take my guests throughout the county, I am constantly amazed at the beauty of this area, so close to a major metropolitan area, and yet so distant in terms of the hustle and bustle of the big city. And over the nine years of residency in Frederick (and of taking relatives and guests around the county), I've become very aware of the importance of lasting land use principles that work to sustain what the Frederick community is and will be for the future.
One particular landmark that serves to remind me repeatedly of the impact of careful consideration for land use, and why it is so important to our community, is Frederick's City Hall. Standing in front of the historical marker that tells the story of this one hundred and fifty year old building, I can't dismiss the significance of a decision made presumably a short list of people back in 1863 to rebuild City Hall after fire destroyed the previous building, and how by their decision, secured this area of the city for a century and a half at the bare minimum.
The same goes for Baker Park. Founded 75 years ago through the generosity of one of Frederick's leading citizens, it is one of the city's greatest assets with playgrounds, walking paths, ball parks, a concert pavilion, lake and gardens. For anyone who has enjoyed time in Baker Park, it's clear that there's little else that defines the Frederick community better than this oasis on the west side of the city.
Consider if the rebuilding of City Hall in the same location, or the gift of what is now Baker Park had not taken place – Frederick would be very much different than it is right now.
Land use planners and professionals talk about these enduring locations as "place-making", to be regarded within context with the overall city landscape. But as one who has come to see these places more for how we as residents relate and commune with each other, these destinations, determined decades if not centuries ago, exist at the very core of our community – who we are and what do we represent as a people.
And it's for these reasons in part that I elected to take personal action to work to preserve our community by joining with other residents in the formation of People Building Frederick's Future, an organization committed to create the highest quality of life for the entire Frederick community, current and future. Leveraging our heritage, preserving our environment, and working with other stakeholders, we draw inspiration from successful, well-designed communities elsewhere to help Frederick become one of the best small cities in America.
Why did we approach the future in this way? While Frederick is unique in many ways, our challenges are not. A small historical community on the fringe of a major metropolitan area, with a growing population, traffic congestion, and increased burden on public services – this could be a multitude of municipalities in Maryland alone, let alone the country or the world for that matter. It's People Building Frederick's Future's belief that we (residents and other stakeholders alike) can learn from the best practices that these other municipalities (successful towns like Portland, Austin, Raleigh) have employed to generate, preserve and sustain the unique and positive quality of life for themselves.
You can learn more about People Building Frederick's Future by visiting the organization's Facebook page at www.Facebook.com/FredericksFuture or by contacting Ed directly at (301) 378-0384.