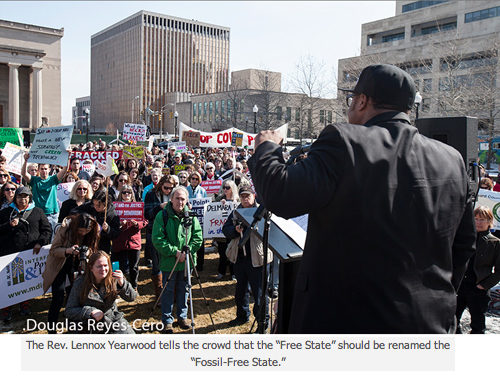 A boisterous, determined, chanting, sign-waving crowd of at least 700 people from across the state and beyond converged on sunny Baltimore today to say that Dominion Resources' planned Cove Point export facility for fracked gas is a threat to our health, our economy, our climate and our future.
"Maryland is here today because Maryland is at risk," shouted Mike Tidwell, director of the Chesapeake Climate Action Network, at the rally at the War Memorial Plaza downtown.
Nearby, the Public Service Commission was considering whether Virginia-based Dominion's planned 130-megawatt gas-fired power plant and liquefaction facility would be in the "public interest."
Outside, the protesters from around Maryland and neighboring states shouted, No, it would not be in their interest — or in the interest of future generations. "Listen to our voice; Dominion's not our choice!" No, they said, it would not be in their interest to frack the countryside to get the gas for this enterprise. Because no matter how much Dominion says this facility has nothing to do with fracking, it has everything to do with fracking.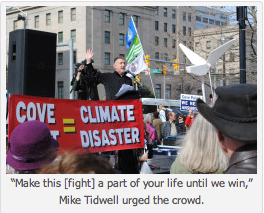 Tidwell compared the fight against Cove Point to the one decades ago against tobacco companies. The evidence in the surgeon general's report on the dangers of smoking changed everything. "We have a new Camel cigarette threat," he said. Like the tobacco companies, Dominion is insisting that lighting something on fire — fracked gas — is good for Maryland. Of the state's 23 counties, 19 lie atop shale basins, he said. He demanded that the PSC "serve the public by rejecting this radical Cove Point plan." And he urged U.S. Sens. Barbara Mikulski and Ben Cardin to "get our back" and demand the fullest environmental review of the project
"This is where Maryland makes its climate change stand," said state Del. Heather Mizeur, a candidate for governor who for years has questioned the safety of fracking. "If I were in charge of this state, I would say no to Cove Point," she said to cheers. If the plant were built, Maryland would see "rising pollution, rising prices and rising tides."
Fred Tutman, the Patuxent Riverkeeper, rebuked Dominion for trying to buy off communities by "passing out money instead of straight answers." Marylanders won't "swap our environmental future for cash," he said.
Many unanswered questions remain about the project, said Rebecca Ruggles of the Maryland Environmental Health Network. What are the health effects, she asked, of more pipeline explosions, more asthma cases, radon in the shale gas, water contamination and climate change?
The Rev. Lennox Yearwood Jr. of the Hip Hop Caucus encouraged Maryland to update its motto from Free State, in honor of its role in abolishing slavery, to Fossil-Free State. "This is our lunch-counter moment for the 21st century," he said. "We must stop Cove Point." He had the crowd chanting: "Thank God Almighty, we will be fossil free at last."
"When you say no to Cove Point, you are saying no on behalf of yourselves, your communities and your natural resources," said Karen Feridun, founder of Berks Gas Truth in Pennsylvania. "But you are also doing it for my state, my community, my natural resources." Cabot Oil & Gas, the fracking company that left families in Dimock, Pa., without drinking water, has already signed a deal to send fracked gas to Cove Point, she said.
After the first round of speakers, protesters marched several blocks to the Public Service Commission, chanting, "Hey, O'Malley, what the frack. Get Dominion off our back!" and "Hey, O'Malley, lead on climate; it's time to break your Cove Point silence!" And they yelled loudly so that the lawyers on the 23rd floor would hear them. They carried signs with a butterfly, salamander and fish. They hoisted little windmills that spun in the breeze. Some carried a huge inflatable pipeline with the sign "No Cove Point." One sign said, "Fracking + Cove Point = Unacceptable Risk." Another said, "Cove Point = Climate Disaster." A banner from Frederick said: Fracking isn't a bridge. It's a dead end."
Students came from Frostburg State, St. Mary's College, Maryland Institute College of Art, University of Maryland and other schools. Parents, some pushing strollers, and workers and retirees came from as far as Garrett and Calvert counties. Some protesters also traveled from New York, New Jersey, West Virginia, the District of Columbia and Pennsylvania. Clare Zdziebko lives four houses beyond the Dominion Cove Point property line in Lusby. She pushed her nearly 2-year-old son, Dominick, in a stroller. "He needs clean air and clean water," she said.
After the march to the PSC came several more speakers. Ashok Chandwaney, a student at St. Mary's, told the crowd he feared the world that his 15-month-old niece will inherit: "I wonder what the world will look like when she's my age." He said we are on the cusp of a climate catastrophe and he doesn't want Dominion to be able to build this facility on a piece of land that will be submerged by climate change.
"We are united here today as one Maryland," said Nadine Grabania, a winemaker who lives in Garrett County. "I'm here to ask you to promise me you will never think of Garrett or Calvert counties — or anyplace where the shale gas industry wants to do its risky business — as 'elsewhere.' "
"We will not be silent," said Ted Cady, whose town of Myersville in Frederick County is fighting a compressor station for fracked gas. "We will act. We will ensure the future health and safety of our children."
And Lois Gibbs, who led residents at New York state's Love Canal in the 1970s, reminded the crowd that "facts will not win this fight." For every fact you point out, industry will have an answer, she said. Those at Love Canal did not win "because we played nice," she said. "Polite people get poisoned. Polite people get polluted." When you brush your teeth and wash your face at night, also tweet O'Malley. Tweet your legislators. "Facts are critically important," she said, but if we are going to win this fight we need to email and tweet and take vacation time for rallies.
"We've got a big fight ahead of us," Tidwell said. "Make this a part of your life until we win. … Let's go fight!"
---
More information
"Protesters Decry Cove Point" was originally published at "Climate Howard:
http://climatehoward.wordpress.com/2014/02/21/protesters-decry-cove-point/
Climate Howard
http://climatehoward.wordpress.com/
Hundreds rally to oppose Cove Point project
Dominion, opponents both line up support in battle over liquefied natural gas exports
http://www.baltimoresun.com/business/bs-bz-cove-point-rally-20140220,0,4342692.story
Chesapeake Climate Action Network press release about the Rally to Stop Cove Point
http://www.chesapeakeclimate.org…
Heather Mizeur's full position paper on the Cove Point facility
http://www.heathermizeur.com/covepoint