On January 16, at 10:00 AM: We, the citizens of Frederick County and SAVE MONTEVUE, will face lawyers from one of the country's largest firms, who have been hired by the Board of County Commissioners to fight us in the struggle to SAVE OUR COUNTY HOMES (Citizens Care & Rehabilitation Center and the Montevue Assisted Living facility).
The rally will take place at the Frederick County Circuit Court, 100 W. Patrick Street in Frederick
Three lawyers, from the Baltimore firm of Venable, LLP, will ask the judge to break the terms of the County's 1828 deed to the property and structures. The deed requires all future County officials — in clear, unequivocal, and unmistakable language: "To have and to hold the said lands and premises…. unto… the Levy Court as Aforesaid and their Successors in Office forever, for the Benefit of the Poor of said County and to and for no other use, intent, or purpose whatsoever…"
At 9:00 AM that day, we will hold a RALLY AT THE COURTHOUSE! We will come together to show Blaine Young and his BoCC that we will not be intimidated by him or his hired guns. We will not allow him to spend our tax dollars on outside lawyers, whose job is to steal our County Homes and stick us with the loss, now estimated to be in excess of $35 Million!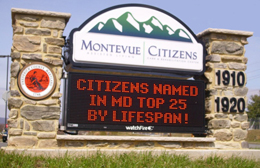 We respectfully ask you to consider two things:
1. Promote our THUNDERCLAP, a means of amplifying our message over the Internet by tens of hundreds of thousands of times. (currently at 35,000!) We need your name as soon as possible, but no later than January 13 at 9:00 AM. Just click here and add your name: http://thndr.it/19EcvUx
2. Attend the RALLY! Please sign up here: https://www.facebook.com/events/268285369989296/
We know it's going to be difficult. We know this is a work day. But, if you can find a way to get there, please remember that WE NEED YOUR SUPPORT!
See you THURSDAY, January 16 at 9:00 AM!
---
More on the Citizens and Montevue controversy, here and in the local media
The Fight Continues! Update on the fate of Citizens/Montevue
September 13, 2013 by Joseph I. Berman, MD, MPH
Encourage the Board of Public Works to Delay or Stop the Sale of Montevue and Citizens!
August 13, 2013 by Steve Bruns
Ready, Fire, Aim! County Commissioners load up on ideology. No facts or compassion needed.
June 24, 2013 by Joseph I. Berman, MD, MPH
Don't sell Citizens Care and Rehabilitation Center and Montevue Assisted Living!
May 20, 2013 by Steve Bruns
Open a chronological listing of links to news articles, editorials, columns and letters to the editor from the News Post, Gazette other news sources about this issue.
Please note this from the News Archive home page:
Envision Frederick County is compiling an archive of news articles, editorials, columns and letters to the editor, from a range of local and regional publications. The archive will grow to include well more than 1,000 entries, covering the last decade or so.
In other words, the link above will take you to some, but not all of the "news articles, editorials, columns and letters to the editor" about this issue, as we are working to catch up with the past.