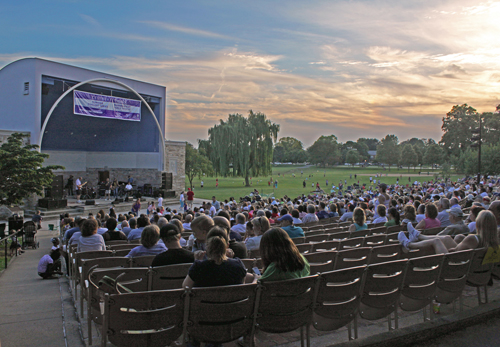 Okay. Nobody is proposing to rezone Baker Park!
And there's no doubt such a proposal would be absurd to virtually anyone who knows downtown Frederick, the surrounding neighborhoods and, of course, Baker Park itself. The community wouldn't even touch a serious discussion about selling the park, or any part of it, for development…of any kind.
Putting aside floodplain issues for a moment, however, there's no doubt that selling the urban parkland for development could raise a LOT of money for the City of Frederick. And, certainly, with good planning, there could be an attractive and desirable mix of high end single family homes and townhouses, a few multi-unit condominiums and some well-placed retail or office space on new pedestrian-friendly streets. What's not to like?
Nowadays, however, it would be very hard to even imagine the neighborhood, the historic district or the City of Frederick without Baker Park.
That hypothetical idea came up in a conversation I had with some friends this morning. And that led to some thoughts about why the park is there in the first place, or what if it was quite different in one way or another, or what if it wasn't there at all. I also wondered what other smaller or larger versions of other parks like it might have, but didn't happen in other neighborhoods, and so on.
Fact is that less than ninety years ago – and almost two centuries after "Frederick Town" was first laid out by Daniel Dulany – the area along Carroll Creek west of Bentz Street was a swampy area, used as a place to dump garbage as much as anything else.
Baker Park is there to enjoy today because of an unlikely and fortuitous combination of flooding and neglect, the burning down of the old Zentz Mill on Bentz Street, and the generosity and foresight of Joseph Baker, with help from Lloyd C. Culler.
This could be a good launching point to examine in detail the importance of open space and public places in urban areas, or the value of preserving floodplains and green corridors along rivers and streams, or the connections between parks and trails and public health, or the impact of parks on property values and the quality of life in adjacent neighborhoods, or how this particular park helps shape your perception or the identity of the City of Frederick, or any number of other interesting possibilities.
But that isn't the primary point here.
Instead, I'd simply like to encourage you to take a moment or two to imagine that Baker Park is not there, that it was never there, and think about the opportunities we have today, and tomorrow, in a growing community, to imagine other things that are not there, but could be, and will be, if we imagine them, AND we value them, AND we personally engage in the affairs of the community…in our civic life.
When the subject came up in conversation, I also remembered a column I wrote almost eleven years ago, and which I'd like to share with you (posted below).
As I said in that column, Baker Park is a living legacy to the foresight of citizens and city leaders generations ago, and I am grateful.
What do you think are the choices we are making about our community today for which future generations will be most grateful?
---
The Legacy Of Baker Park! Duplicate It!
by Kai Hagen
August 22, 2002
One recent Sunday evening, my family joined more than a thousand other people at one of the weekly summer concerts in Baker Park. It was a lovely evening. A not-too-hot end to another hot and hazy August day. We don't make it every week, but we try to go fairly often. And so do a lot of other folks from nearby town and country.
Most of the time, we don't know or care what band will be playing, or what sort of music they play. More often than not, they are pretty good. Sometimes outstanding. But the truth is that the music is just a small part of the reason for being there.
It's the people and the setting. Or is it the setting and the people?
Either way. The combination works.
It may lack the grand architecture and formality and history of the Plaza Mayor at the heart of Salamanca, Spain. But the basic ingredients are the same, at least on Sunday evenings. In Salamanca, in the late afternoon and evening, the plaza fills with families and couples and groups of teenagers, and everyone else, it seems. They stroll and sit, and meet and greet. They are at once the audience and the show.
Throughout the summer, every Sunday, in our own way, it is much the same in Baker Park. It isn't the number of people that makes it so appealing, but rather the diversity of people. The bands provide the musical score for a show put on by the people of Frederick.
Many sit in the seats by the bandshell. Many more sit on blankets and folding chairs all around. The large playground becomes a bustle of kids swinging and sliding and spinning. People line up for hot dogs and pretzels and lemonade. The expansive backdrop of green is enlivened by people riding bikes and running with dogs, tossing frisbees and footballs, playing tennis and tee ball.
It's a living, modern rendering of a Norman Rockwell painting, regularly scheduled in Frederick's version of New York's Central Park.
Throughout the rest of the year, the same park provides an inviting place for the annual Christmas Concert, the Children's Festival, a variety of other festivals and our Fourth of July celebration. People walk and bike and skate in and around the park. Kids fish in Culler Lake or feed ducks along Carroll Creek. There is a picnic area, two playgrounds, a gazebo, a popular public pool, tennis courts, baseball and soccer fields, and more.
The park is also home to the rose garden, the Joseph Dill Baker Carillon, a community center and the historic Schifferstadt house and gardens and Architectural Museum.
All this and more on just forty-four green acres which wind through pleasant neighborhoods along Carroll Creek to the edge of the historic district, just a few blocks from the center of town.
It is hard to imagine Frederick without Baker Park.
I certainly don't want to.
In a time when some urban neighborhoods have to form organized groups and raise money to get basic improvements to small local parks, we are fortunate to have such a space. In a time when many teenagers choose to hang out in large, private indoor malls, it is refreshing to enjoy such an outstanding space.
A public space.
In a time when we fight over Adequate Public Facilities Ordinances, to ensure that our rapidly growing population will be served by adequate roads, schools, parks, water and sewer systems, it is worth considering the real wisdom and value of thoughtfully investing in public facilities and services that are more than merely adequate.
Baker Park is a living legacy to the foresight of citizens and city leaders generations ago.
I am grateful.
This week, a planning consultant has completed a report identifying key issues for long-term planning in Frederick. City officials hope the report will encourage residents to participate in the planning process, which will rewrite the comprehensive plan and development ordinances, and affect the city for years to come.
One of the priority issues is how many parks the city needs. And what kind of parks they will be.
Other key issues include Frederick's role in the region, how much the city will and should grow, water for new businesses and homes, the need for affordable housing, and the quality of residential, commercial and industrial development.
Residents are invited to discuss the report and tell city officials their personal priorities for city planning at the Frederick Board of Aldermen's 2 p.m. workshop September 4 at City Hall. Residents also can meet with Planning Department staff at a special forum September 18 at 7 p.m. at City Hall. (For more information, contact the Planning Department at 301-694-1499.)
It is also time to consider the creation of a much more than merely adequate regional county park somewhere near the City of Frederick. Such a park, which could be along the Monocacy River or between Frederick and the mountains, could include a vibrant mix of natural, recreational, social and cultural amenities.
Good land for such a public space is only going to get more scarce, more expensive and farther out of town. This is the time to begin thinking and discussing and planning.
It could be our legacy.