Six weeks from today, Tuesday, February 25, 2014 is the deadline for candidates to file to run for office in the Frederick County elections this year.
This year, the primary will be held earlier than in past county elections, on June 24, 2014. As always, the General Election will be held on the first Tuesday in November (this year on November 4, 2014).
But the biggest change this year is that voters in Frederick County will no longer be electing a five-member Board of County Commissioners (who, in our commissioner form of government, have served as both the executive and legislative branches of county government). Instead, we will be electing the county's first County Executive and all seven members of new County Council.
The county executive will be elected in a countywide vote. Two of the seven county council members will also be elected in a countywide vote (at-large). But the remaining five of the new county council members will be elected by districts. Frederick County has never elected officials by districts before, and so most voters still need to learn what district they live in.
You can see good maps of the new districts here:
What district are you in?
http://www.envisionfrederickcounty.org/county-council-members-elected-districts…
While it is highly likely that both of the major parties will have one or more candidates file for the county executive and county council races, with six weeks to go before the filing deadline, very few candidates have officially filed.
Former three-time county commissioner Jan H. Gardner (Democratic) has filed to run for County Executive. And Christopher James Mason (Republican) has filed to run for the county council in Councilmanic District 3.
If at least one Democrat and one Republican file for each seat, that means that we can expect at least fourteen candidates to file in the next month and a half.
There are four months between the filing deadline and the primary election.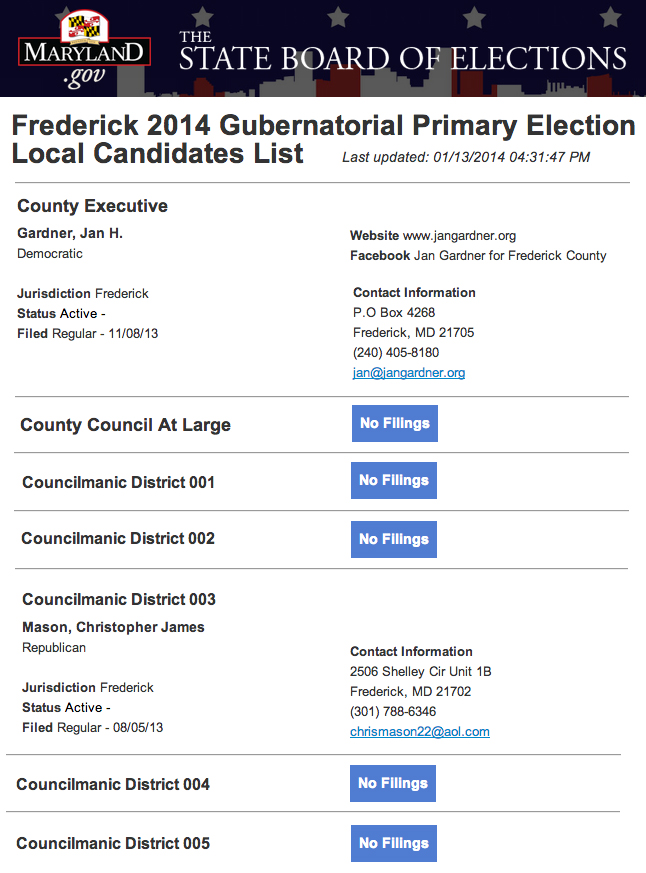 The other county offices that will be on the ballot this year are State`s Attorney, Clerk of the Circuit Court, Register of Wills, Judge of the Orphans` Court, Sheriff, the Democratic and Republican central committees, and four of the seven members of the Frederick County Board of Education.
Those who filed for those offices, to date, are:
• Charlie Smith (Republican) for State`s Attorney
• Sandra K Dalton (Republican) for Clerk of the Circuit Court
• Buzz Working (Republican) for Register of Wills
• Kevin V. Grubb (Republican) and Chuck Jenkins (Republican) for Sheriff
We will post updates every week between now and the filing deadline.