Eric Soter has been the Director of the Planning Division, and (after the division was part of a re-organization) the Community Development Division since being appointed to the position by the Gardner board in 2007.
Today, the Frederick Board of County Commissioners announced that Soter will be leaving his position with the Community Development Division, effective in two months, on December 14, 2013. The press release did not provide any information about why Soter will be leaving.
Before coming to work in Frederick County government, Soter worked as the Urban Design Director for the City of Gaithersburg, a Transportation Planner with Anne Arundel County, a Comprehensive Planner with Carroll County, and as an Associate Planner for the Baltimore Metropolitan Council.
Since re-organization in 2011, the Community Development Division has been comprised of the Department of Economic Development, the Department of Planning and Development Review and the Department of Permits and Inspections.
As noted in the press release below, Gary Hessong, who is currently serving as the director of the Permits & Inspections
Department, will serve as acting director of the Community Development Division.
Here is the short Frederick News Post article about Soter's departure: "Soter stepping down as county director of community development"
UPDATE: Here is the longer Frederick News Post article from the October 17th edition: Community development director to exit
Eric Soter turns in notice this week, looks forward to 'new and different challenges'
Please see the press release below for additional information.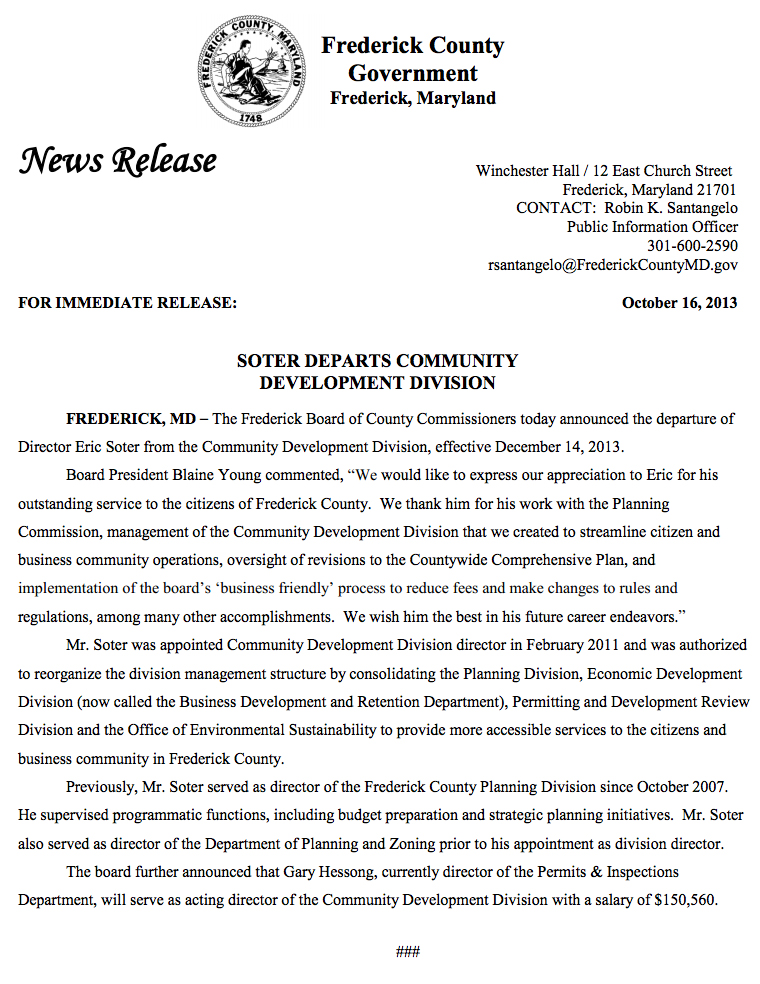 (click on the image above to open a larger and easier to read version)