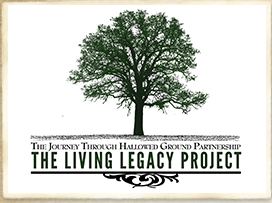 Imagine a tree planting project that not only benefits the environment, but also connects us to our shared American history and contributes to a deep sense of place. There is such an effort that has gotten underway along the Journey Through Hallowed Ground National Scenic Byway, a 180-mile long swath of land stretching from Gettysburg, Pennsylvania, to Thomas Jefferson's Monticello in Charlottesville, Virginia that contains a vibrant natural, historical, and cultural landscape (and includes Frederick County).
With 400 years of European, American and African-American heritage, it's known as the region Where America Happened(tm). Along the 99th designated National Scenic Byway, there are National and World Heritage sites, over 10,000 sites on the National Register of Historic Places, 49 National Historic districts, nine Presidential homes, 13 National Park units, hundreds of African American and Native American heritage sites, 30 Historic Main Street communities, sites from the Revolutionary War, French-Indian War, War of 1812 and the largest collection of Civil War sites in the nation.

With the largest concentration of civil war battlefield sites in the country, the Journey Through Hallowed Ground Partnership created the Living Legacy Project to commemorate the Civil War Sesquicentennial. This project of national significance has a goal of planting or dedicating one tree for each of the 620,000 soldiers who died, as a living memorial for their individual and combined sacrifices. These trees are being planted along or within close proximity to the Journey Through Hallowed Ground National Scenic Byway (primarily Route 15), which engages 15 counties over parts of four states.
Upon completion, the Living Legacy Project will be the first 180-mile landscaped allée in the world and the only allée dedicated to honoring the most defining moment in American history. The project will create a unified color palette that reminds visitors that they are, indeed, on hallowed ground.
It was upon the battlefields within this region that many of the soldiers who fought, died during the American Civil War, one of our country's most defining moments. A signature palette of seasonal trees and plantings, including redbuds, red oaks, red maple, and red cedar have been selected to represent the courage and valor of the individuals being honored with this project. The native selection is appropriate to the diverse landscapes along this historic corridor, and remains sensitive to the local ecology, scenic views, and development patterns.
The benefits of this project are three-fold:
1) The environmental benefits and impact of planting thousands of new trees.
2) The historic educational benefits of connecting our shared national heritage together through this project and educating future generations on our American history.
3) The aesthetic benefit of creating a "cherry blossom" affect, providing a sense of place and reminding visitors they are indeed in hallowed ground.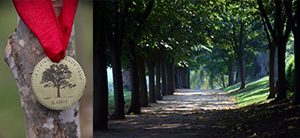 As a result, unique partnerships have been created. For example, Ancestry.com has come on board to help provide a way to geo-tag the tree to particular soldiers and provide an educational opportunity for visitors to learn about their personal stories. In addition, teachers are being trained in schools across the region (and other parts of the U.S. as well) to do help with the research on the fallen soldiers.
The Journey Through Hallowed Ground Partnership actively engages over 350 organizational partners in our organizational work, including the Living Legacy Project. Pilot plantings have already taken place in Gettysburg, PA and in Loudoun County, VA. Partners have included the National Park Service, a private college, historic museum/nonprofit organization, Town of Leesburg, the Virginia Department of Transportation, and many others.
Thousands of additional trees are slated for planting in 2014 in new communities and with new partners. The JTHG Partnership is currently exploring sites to plant trees in Frederick County. In addition, the organization is seeking additional partners and supporters to make the project come to fruition.
Individuals, businesses, schools, reenactors, history buffs, private landowners, and community groups can contribute to this project. The JTHG Partnership is seeking $100.00 contributions to support and plant each tree. Donors may select a soldier to honor, as the trees will be geo-tagged to allow Smart Phone users to learn the story of the soldier, providing a strong educational component to engage interest in the region's historical heritage and literally bring the tree to life.

---
More about the Journey Through Hallowed Ground and the Living Legacy Project
Journey Through Hallowed Ground
visit http://www.hallowedground.org
Journey Through Hallowed Ground on Facebook
https://www.facebook.com/TheJourneyUSA
Journey Through Hallowed Ground on Twitter
https://twitter.com/TakeTheJourney
Journey Through Hallowed Ground on YouTube
http://www.youtube.com/takethejourney
On YouTube (2:38 video)
The Living Legacy Project: An Initiative of National Significance
"To commemorate the Sesquicentennial of The American Civil War, the Journey Through Hallowed Ground Partnership has developed the Living Legacy Project. This sweeping and ambitious effort to plant or dedicate a tree for each of the more than 620,000 soldiers who died during the America Civil War will create a unified color palette that reminds everyone that they are, indeed, on hallowed ground. Upon completion, this initiative will create the first 180 mile landscaped allee in the world and the only allee dedicated to honoring the most defining moment in American history."
http://www.youtube.com/watch?v=cMxthBdIHHo&list=TLoyCMgzydjROEwykIIK4qDjITpLF3_EMj
About the Living Legacy Project
http://www.hallowedground.org/Get-Involved/Plant-a-Tree/About-Living-Legacy
ancestry.com
Journey Through Hallowed Ground and the Living Legacy Project (January 27, 2014)
http://blogs.ancestry.com/ancestry/2014/01/27/journey-through-hallowed-ground-and-the-living-legacy-project/
USA Today
620,000 trees being planted to honor Civil War dead (December 21, 2013)
The goal is to plant one for each soldier who died in the line of duty.
http://www.usatoday.com/story/news/nation/2013/12/21/civil-war-trees-planting-dead-memorial/4063783/