Ann Nau, Myersville mother and compressor station opponent, recently pleaded with state officials to deny the air quality permit needed to proceed with the project. "I live here. My daughter lives here," she said, reaching over to the 11-year-old sitting with her at the fire station hall. She said she wanted to protect her daughter.
"You're a parent. That's your job," said Bill Paul of the Maryland Department of the Environment (MDE), the agency charged with reviewing Dominion Transmission's air quality permit application.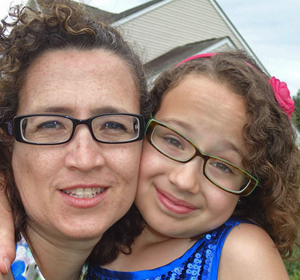 Wrong. That's not her job.
The job description of parent can't possibly be to cordon off a child from volatile organic compounds, nitrogen oxides, carbon monoxide, sulfur dioxide, particulate matter, formaldehyde, loud noises, blowdowns, explosions and climate change. That is the job of local, state and federal governments. Ann Nau's job shouldn't have to be — but has become — trying to make governments do their job. So far, governments are woefully underperforming.
MDE's Paul, who took great pains to explain to anxious Myersville residents what is involved in an MDE review, nevertheless suggested strongly that the permit for the compressor station for fracked gas moving through the state would be approved. (Even though Myersville doesn't even have natural gas piped into the town.) His "best guess," he said, is "you're not going to see a significant difference" in air quality from the compressor station. Which is less than comforting in light of a Massachusetts Institute of Technology study released over the summer that found that Maryland has the highest rate of deaths from air pollution in the nation, and Frederick, right next to Myersville, is among the worst cities in the state.
Turns out this compressor station is only one blot on our landscape. Zoom out, and the magnitude of the threat comes into focus. Politicians and industry seem united in heralding this age of gas in the name of "clean" energy, "energy independence" and jobs. But these claims don't add up, and the byproduct will be poisoned water, dirty air, chewed-up land, risk of explosions, volatile prices and industrial zoning in a backyard near you. Over the horizon and waiting to ensnare us all is a spider's web of pipelines and compressor stations for fracked gas, with a huge export plant for liquefied natural gas (LNG) at its hub. That maligns spiders, but this particular spider is on amphetamines.
Parents and non-parents alike, we are in the battle of our lives and our energy future.
Here's the industry plan:
EXPORTING LNG:
Dominion Cove Point wants to transform its sleepy import facility in Lusby, Calvert County, into a $3.8 billion monster export plant for LNG that it would ship in large tankers to customers in India and Japan. Dominion wants to be able to export 1 billion cubic feet of LNG daily for 25 years. With global average temperatures warmer than in tens of thousands of years and ice caps already melting, we don't have that kind of time.
The U.S. Department of Energy has given preliminary approval for the Cove Point plant and three other export facilities; 22 others await approval. But many other reviews are required, including from the Federal Energy Regulatory Commission (FERC) and, in Maryland, the Public Service Commission.
At Cove Point, the gas would be turned into a bubbling liquid when supercooled to minus 260 degrees Fahrenheit. This process requires a lot of energy, which is a tipoff to the first thing wrong with this idea. Dominion will need two natural gas-fueled, 65-watt generators just to transform the gas into a liquid. The gas consumed in this way won't heat homes or fuel any businesses; it will just transform the gas from one state into another. As many as 220 huge tanker vessels that run on dirty, molasses-like bunker fuel (known for coating and killing seabirds and marine animals in accidents) will lumber into and out of Cove Point, taking the LNG to distant ports where it will have to be turned back into a gas, another energy-intensive process.
LNG, to remain a boiling liquid, periodically vents methane — the heat-trapping, greenhouse gas that is the main component of natural gas and that is 86 times more powerful than CO2 over 20 years (and 34 times more powerful over 100 years). So climate-disrupting methane leaks are normal, indeed necessary.
In the "unlikely event" that the pressure-relief systems fail, the resulting explosion has a name: BLEVE. FERC has asked Dominion to "provide mitigation to prevent a boiling-liquid-expanding-vapor explosion (BLEVE) or provide an analysis for distance to a potentially harmful radiant heat level from a fireball." Because of the existing import facility, Lusby already is divided into
evacuation Zones 1 through 4
, and its high school is a mass care site.
Gas flaring, another typical procedure, killed 7,500 songbirds one foggy night at a New Brunswick, Canada, LNG facility.
In addition, chemicals would be stored on site, traffic would increase, wetlands would be lost, tankers would be terrorist targets and, perhaps most notably, wells would be fracked all over the Marcellus Shale.
ACCELERATED FRACKING:
Natural gas is so cheap that drillers are walking away from leases. But if industry can get higher prices by exporting the gas, the pressure to frack will escalate, including in Maryland, where a moratorium is in place and health and economic studies are under way. I remember Iraq War protest signs that said: How did our oil get under their soil? Now, Asia's gas will be under our soil. And our communities, our water and land are, in company parlance, the "overburden" in the way of this buried resource.
Despite a PR campaign designed to have us all "think about it," fracked gas is not the solution to our energy or climate crisis. Shifting our economy to fracked gas benefits the fossil fuel industry while destroying communities and the climate that sustains all life.
To blast the gas from harder-than-marble shale requires explosive pressure and millions of gallons of fresh water laden with toxic and carcinogenic chemicals and silica sand. The gas emerges with the toxic wastewater plus radium, strontium and brine roused from inside the Earth. That radioactive waste, with the "fingerprint" of the Marcellus Shale, is showing up in streams – aka, homes of fish, turtles and other creatures — that provide drinking water for Pittsburgh.
And the fracking wastewater is impossible to clean. And the companies aren't paying royalties or are subtracting the cost of business from royalties; and dangerous benzene levels are near drilling sites; and fissures filled with methane and the secret toxic chemicals can link with other fissures, eventually reaching aquifers. And leaks of climate-destroying methane at the drilling site continue at undetermined rates. Leakage rates are low (1 percent) in an industry-funded and controlled study but 6.2 to 11.7 percent in a study published in Geophysical Research Letters in August. Unless that leakage rate is under 2 percent, natural gas is worse for the climate than coal. Methane also leaks from pipelines and compressor stations. States so far are overlooking damage from collective pollution. And gathering lines are unregulated, and regulators are a dying breed.
More fracked gas means more of these pipelines, more explosions (such as this one in Oklahoma), more leaking methane, more gathering lines and more compressor stations, which brings us back to Myersville.
Dominion's shiny maps on display in Myersville included a marker for Cove Point. Would the Myersville compressor station transport fracked gas to the LNG export facility, residents wanted to know? No, the Dominion salesmen said. Well, maybe, they corrected themselves. The gas, they said, is for Baltimore Gas & Electric (BGE) and Washington Gas Energy Services (WGE) customers. But BGE and WGE can do whatever they want with the gas.
Myersville is only the beginning. It is part of a next generation of fossil fuel extraction. When the easy fossil fuels dwindled, we should have shifted to renewables, but we didn't. We opted instead for extremes to get another fossil fuels fix—from tar sands to mountaintop removal of coal to drilling under the oceans to fracking to incinerators. At every turn, we have left sacrificed communities, people and other species forced to live with poisoned land, air and water.
We have a chance to stop this machinery, to keep our communities safe and create many new jobs, but we will need all hands on deck. Here's the plan: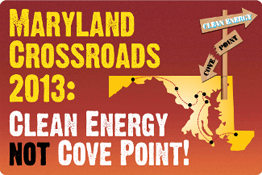 • The Chesapeake Climate Action Network (CCAN) has a nine-city Crossroads Tour about Cove Point. The final event is in Columbia on Tuesday, Dec. 3, from 7:30 to 9 p.m., at the East Columbia branch of the library. Sign up here.
• CCAN also is pressuring Gov. Martin O'Malley to insist on an Environmental Impact Statement, instead of the weaker Environmental Assessment. You can sign a petition here.
EDITORS NOTE: Maryland Crossroads 2013: Frederick Tour Stop

When: Monday, November 18, 2013, 7:30pm to 9:00pm (doors open at 7:00pm)
Where: Rosenstock Auditorium (at Hood College)
401 Rosemont Avenue Frederick, MD 21701
In the June 2012 issue of the journal Nature, researchers said the Earth was headed for calamitous changes and mass extinctions. At a recent forum in Howard County, a U.S. Department of Agriculture scientist talking about the effect on agriculture of climate change said, "I have a lot of colleagues who have been losing sleep for a lot of years." While scientists are losing sleep, too many of the rest of us have been sleepwalking.
Naomi Klein recently wrote that scientists, recognizing our climate peril, see resistance movements as our only hope. Those movements are all around us, from Destiny Watford's student-led Free Your Voice campaign to stop an incinerator in Curtis Bay in Maryland, to Marcellus Outreach Butler's latest Protect Our Children campaign in Pennsylvania, to Myersville Citizens for a Rural Community's work on the compressor station, to CitizenShale's efforts to look with eyes wide open at fracking in western Maryland, to CCAN's leadership on Cove Point that has industry taking out full-page ads in the Washington Post and Baltimore Sun. James Marriott, who wrote The Oil Road: Journeys from the Caspian Sea to the City of London, also senses a change. At a fall event in Baltimore to talk about his book, he said the pipelines laid in the 1960s met with no resistance but opposition is growing to pipelines, fracking, tar sands, LNG terminals. "We must retreat from the destruction of the biosphere," he said, "retreat from carbon fuels and make a different future."
We will have to make governments do their job, instead of letting corporations write the regulations and carry on business as usual. Or come up with another plan.
As 1960s activist Mario Salvio said: "There's a time when the operation of the machine becomes so odious, makes you so sick at heart, that you can't take part. You can't even passively take part. And you've got to put your bodies upon the gears and upon the wheels … upon the levers, upon all the apparatus, and you've got to make it stop." (With thanks to Shireen Parsons, who has been handing out that versatile quote for 50 years. I met her on the Walk for Our Grandchildren and the action against Environmental Resource Management's undue influence on review of the Keystone XL pipeline.)
Update on the compressor station: Myersville had another escape route blocked recently, when the U.S. District Court for the District of Maryland said local zoning laws are preempted by the federal Natural Gas Act. Missing the point, Dan Donovan, Dominion's project director for media relations, prattled on about ambience, according to a Frederick newspaper: "The design calls for a green roof and tan siding, and cupolas on the roof to make it appear more rural, or countryside, than industrial." What the building looks like is the least of Myersville's worries.
---
This column was republished here with permission. It was originally published on November 4, 2013 on the ClimateHoward blog.
---
MORE INFORMATION:
SourceWatch has gathered a lot of interesting information about Dominion Transmission, Inc. here.
Myersville Citizens for a Rural Community
On the web: http://www.mcrcmd.org/
On Facebook: https://www.facebook.com/groups/255974454439913/
Chesapeake Climate Action Network
On the web: http://www.chesapeakeclimate.org/
On Facebook: https://www.facebook.com/ChesapeakeClimate
Maryland Crossroads 2013: Frederick Tour Stop (on November 18th, at Hood College)
http://www.envisionfrederickcounty.org/ai1ec_event/maryland-crossroads-2013-frederick-tour-stop
News Archive:
Open a chronological listing of links to news articles, editorials, columns and letters to the editor from the News Post, Gazette other news sources about the controversial gas compressor station proposed for Myersville.
Please note this from the News Archive home page:
Envision Frederick County is compiling an archive of news articles, editorials, columns and letters to the editor, from a range of local and regional publications. The archive will grow to include well more than 1,000 entries, covering the last decade or so.
In other words, the link above will take you to some, but not all of the "news articles, editorials, columns and letters to the editor" about this issue, as we are working to catch up with the past.